Defense As Talented As Philly
July 30th, 2018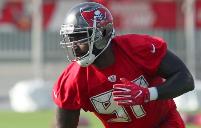 One thing that totally baffled Joe as to why the defense was so horrible last year was it's not like the cupboard was bare.
At each level stood current and former Pro Bowl players. And the Bucs linebackers are thought to be a deep unit.
Yet the defense as a whole was laugh-out-loud bad. So long as you aren't a Bucs fan.
Well, the Bucs added quite a bit of talent to the defense this offseason, including a couple of guys who just got a Super Bowl ring in February with the Eagles.
One of those guys is defensive end Vinny Curry. And through four practices thus far in training camp, Curry believes the Bucs have the defensive talent to win.
He's noticed Bucs stud defensive tackle Gerald McCoy has been watching him and Beau Allen, also a former Eagles defensive tackle. Curry feels that GMC knows there is a reason the Eagles beat the mighty Belicheats to win a ring and that's why he's monitoring the two so much.
"You know what man, we had a great team last year and great defensive linemen," Curry said. "You know, from the ones to the twos, we rotated every four plays. We're building that here. We have just as much talent on our defense here in Tampa as we did in Philly.

"Just [GMC] watching that, you know, I'm pretty sure he was just watching his position. You know whether it's Beau [Allen] or Fletcher Cox and seeing how they rush, you know with someone like me being on the same side as Gerald [McCoy]. Trying to get that feel, I'm pretty sure that's what he was watching."
That would be chemistry. That's something Joe has heard defenders say they are trying to build with defensive line coach Brentson Buckner.
It was very interesting to Joe that Curry said the Bucs have just as much talent on defense as the Eagles. It reminds Joe of Bucs coach Dirk Koetter saying on "Hard Knocks" how the Bucs had the most talent on the roster since he has been with the Bucs.
If a team has talent, and they aren't getting the job done on the field, you know where fingers will be pointed, right?