Day 4 Training Camp News, Notes & Nuggets
July 30th, 2018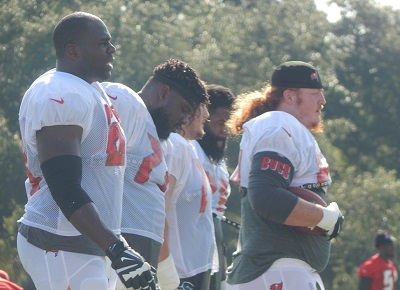 The Buccaneers are off today, but Joe has plenty more football nuggets from yesterday's practice at One Buc Palace, Day 4 of training camp. 
Enjoy!
*Opening 11-on-11 series kicks off. Ryan Fitzpatrick takes his place under center and throws short and to Peyton Barber, then short to Chris Godwin before the rookie meltdown; Ronald Jones fumbled on his first touch in pads and Vita Vea hobbled off the field with his head down. (Update of Vea's lower leg injury on the home page.)
*Undrafted rookie RB Shaun Wilson out of Duke fumbles with the third team. Joe believes the dude will need a miracle to make the roster.
*Hard run up the gut from Peyton Barber. Find the eye-popping video here featuring mind-blowing physicality by Vinny Curry after getting his helmet blown off by O.J. Howard. Howard runs left on next play and Curry chases him down. Barber should have been hitting that edge harder.
*Kwon Alexander stuffs Barber, one-yard gain.
*Ronald Jones run four yards wide left. Gerald McCoy was in the backfield quickly after knocking Caleb Benenoch off balance with his trademark get-off.
*Jacquizz Rodgers finds a little room on the right side after a quick out from Jameis Winston on the right side. Nothing up the gut for Quizz after that. LB Cameron Lynch gets a lot of love from coaches after the run stuff.
*You can read all about the pass-blocking/pass rush 1-on-1 work here, which included the first good fight of camp linked here.
*Practice kicks up on the turf and Ryan Fitzpatrick finds Mike Evans as Brent Grimes slips.
*Nice deep crossing route complete, Jameis to Freddie Martino (shots flow at the velvet-lined lounge of the Vero Beach Ramada Inn).
*Javien Elliot whistled for the training camp version of a sack of Jameis.
*Botched snap by the first team.
*Rookie cornerback M.J. Stewart on another strong nickel blitz.
*DROP! Camp meat receiver Ervin Phillips from Ryan Griffin.
*DeSean Jackson and Grimes catching some punts. Jackson diverts from waiting with teammates to visit with fans. (Photo and more here).
*In more 11-on-11 and 7-on-7, rookie receiver Justin Watson shows off his speed and versatile catching ability. Lotta talent there. Interesting to see Watson and fellow rookie cornerback Carlton Davis get into extracurricular pushing and shoving. Hey, every rookie class is supposed to have a tight bond. Right?
*Overall, it appears Grimes is avoiding contact indoors and outdoors. Can't blame him. Joe has heard other media say Grimes is losing it, but Joe just sees a 35-year-old veteran pacing himself six weeks before the opening whistle.
*One guy who couldn't avoid contact, and doesn't want to, is Chris Godwin. He's got no problem giving up his body in the run game. Good chance he's still feeling Peyton Barber running up the gut and bouncing off him very hard as he approached the second level. Barber was quite a load yesterday.
*And speaking of corners, Davis hasn't shown up much since early in spring practices.
*Sweet grab by O.J. Howard of a high throw from Jameis.
*Unfortunate injury to backup right tackle Leonard Wester, who was taking all the first-team reps as the Bucs play cautious with Demar Dotson.
*Underrated play of the day goes to a diving, 10-yard grab by Adam Humphries from Jameis in 7-on-7 work. Overall, Jameis looked very strong in 7-on-7 with a variety of pass attempts, including a 50-yard, double-move bomb to Jackson. Grimes let up on the play and Keith Tandy was trailing with help.
*Nice throw rolling left by Griffin to Cameron Brate.