Dirk Koetter Is Adamant Bucs Are "Not Going To Miss A Beat" With Fitzpatrick At QB (video)
July 27th, 2018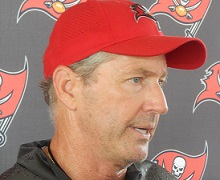 Sometimes it's not just what you say, it's how you say it.
And Dirk Koetter's delivery today appeared to tell quite a story. The head coach talked about his quarterback situation after practice today, and Joe's got the video all cued up below.
For the video challenged, Koetter appears genuinely perplexed why some media members would think the Bucs offense won't be the same without suspended Jameis Winston.
After talking about the experience of Ryan Fitzpatrick and his success in Koetter's system, Koetter dropped the following quote: "Guys, we're not, we're not going to miss a beat with Ryan at quarterback. I mean, I don't know if everybody's worried about that or not, but I'm certainly not."
This all very interesting on the heels of Koetter's comments yesterday about who will start at QB if Jameis is healthy and available in Week 4.