Buffalo Actually Makes Playoffs, Trades QB And Now To Lose RB? Oh, Right, They Are The Bills!
July 14th, 2018
Podcast (todd-wright-fantasy-football-podcast): Play in new window | Download | Embed
Subscribe: RSS
Todd talks about the Plan B at running back in Buffalo and basically he says they better have a Plan C or D option in this edition of the Todd Wright Fantasy Football Podcast. There's also actual bad news about a running back elsewhere, which is very rare for this time of year when all 32 teams try to convince you they can make the playoffs post free agency and draft.
.
Meanwhile in Nashville, there's good news that Derrick Henry will be the lead back. In the next sentence, someone else writes that Dion Lewis may lead the team in all-purpose yards. Can someone just give this guy the ball and let him go!!! Why does it seem like we fantasy football fans see him as a no doubt RB1, yet his own organization obviously does not. Remember, you can email any question to Todd at
ToddWrightFantasyFootball@gmail.com
.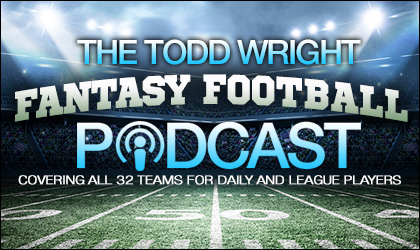 PRESENTED BY BRANDON LEGAL GROUP