Three Game Suspension For Jameis Winston
June 21st, 2018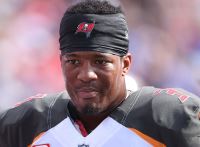 UPDATED 6:30 p.m. – NFL super insider Adam Schefter of ESPN has the hot news this evening, a three-game suspension will be slapped on America's Quarterback, Jameis Winston.
Schefter says that is the league plan, punishment for Jameis violating the personal conduct policy.
Of course, Bucs fans know too well about the seven-month investigation launched into Jameis' actions with a female Uber driver in Arizona back in March 2016. She claims he grabbed her crotch without permission. Jameis denied it and Eagles cornerback Ronald Darby said he was there and it didn't happen.
Whether the NFL believed Jameis is unknown, as is the exact reasoning behind the suspension. The NFL may never reveal that publicly.
Joe will take an educated guess, as of this typing, that Jameis will appeal and this will get knocked down to two games.
In late April, Joe wrote in great detail about how fans should expect Jameis to get suspended because of a reporting failure under the NFL personal conduct policy. Hopefully, that's the only reason given by the NFL. To hear that they found evidence of Jameis actually acting inappropriately would be devastating.
Schefter elaborated that nothing is official yet but it's coming.
The league still has not notified Winston of its official decision, and the circumstances surrounding it still could lead to an increase or decrease of the three games, per sources. But as it stands now, the league is preparing to suspend Winston for three games.

One source said Winston could be notified as early as Friday, but others think it is will be handed down sometime in the next week, per sources. An appeal could be discussed, but they have proven to be largely fruitless in the past, most recently with Cowboys running back Ezekeil Elliott, who was suspended six games last August.

NFL investigator Lisa Friel helped spearhead the investigation that would see the suspension of another NFL star.
Time to order a Ryan Fitzpatrick jersey.
UPDATED 6:31 p.m. – Ian Rapoport of NFL Network Tweeted as follows:
#Bucs QB Jameis Winston has not been notified of his suspension, nor has the team, sources said. But the expectation is he's off the field for several games. The next similar circumstance will mean a one-year suspension for Winston.

— Ian Rapoport (@RapSheet) June 21, 2018