Will Anyone From The Bucs Have Jameis Winston's Back?
June 21st, 2018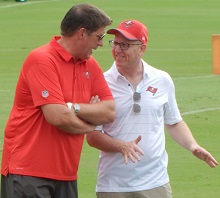 The suspension of America's Quarterback is here. It's out there.
Now the question is whether Team Glazer, Jason Licht and/or Dirk Koetter will have Jameis Winston's back publicly.
Will one of these guys stand up and say Jameis did nothing inappropriate, and he's getting railroaded by the NFL? Will there be a news release or a verbalized comment that goes there in the coming days?
So far, Joe hasn't heard anyone say that through many months of digging and talking on and off the record. And Joe talks to a lot of people.
To date, that's the most troubling element of this whole Jameis Uber hassle. The only guy saying he didn't do anything wrong is Jameis and Ronald Darby, America's most questionable witness.
It's early in the post-suspension process. The NFL still has to make this all official and, hopefully, reveal some details. At that point, a public response from a Buccaneer official would be appropriate. And Joe certainly hopes the Bucs have Jameis' back at that time.
If not, that'll either say he's guilty, or that the team is far too scared of Roger Goodell.
Whatever the public take of the NFL, somebody from the Bucs better say something of substance. If not, Joe's going to blow a gasket on these pages.