Expect Reporting Failure To Suspend Jameis
April 23rd, 2018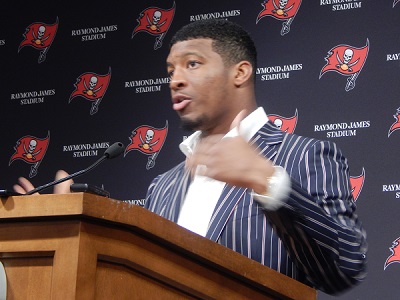 Whether or not America's Quarterback, Jameis Winston, actually crotch-grabbed a female Uber driver without permission 25 months ago in Arizona may be no factor in an eventual 2018 suspension under the official NFL Personal Conduct Policy for players.
It's Jameis' failure to report the allegation in a timely manner that appears most likely to put him on the shelf for at least one game this season.
Players are obligated under the current conduct policy, as it is posted on NFL.com and the NFL Players Association website, "to promptly report any matter that comes to their attention (through, for example, victim or witness reports, law enforcement, or media reports) that may constitute a violation of this Policy."
The league is clear; if an accusation against a player is one that, if true, would violate league conduct rules, then the player must report it promptly to his team or the NFL.
Here's the exact language from the current league policy that appears damning for Jameis: "Failure to report an incident will be grounds for disciplinary action. This obligation to report is broader than simply reporting an arrest; it requires reporting to the league any incident that comes to the club's or player's attention which, if the allegations were true, would constitute a violation of the Personal Conduct Policy."
Per comments from Bucs officials, Jameis did not report the Uber allegation to the Bucs or the NFL when Uber advised him of the official driver complaint and subsequent suspension of his Uber account in March 2016.
BuzzFeed broke the story in great detail in November of 2017, and then the league launched its probe after learning of the allegation.
Dirk Koetter and Bucs officials were asked when they learned of the Uber-driver allegations and they said their awareness came during the week the BuzzFeed story broke.
Translation: Jameis didn't report the accusation to the team — or the league, which would have notified the team — as directed by the NFL conduct policy. In fact, Jameis admitted via a November written statement that he was aware of the Uber allegation two years ago. "At the time of the alleged incident, I denied the allegations to Uber, yet they still decided to suspend my account," Jameis wrote.
Gray Area
The following is Joe's exchange with Koetter on Nov. 22.
JoeBucsFan.com: Coach, there'll be a lot fans and just people across the Bay area tomorrow, Thanksgiving, talking about the Jameis Winston investigation. Is there anything that you'd want them to know or consider while they talk about it?
Dirk Koetter: No. Because I can't talk about it. That is in the hands of the NFL right now. And we're cooperating with that investigation to whatever extent that is I don't even know. There's just nothing I can say about it right now. It's got to run its course. And when it does, we'll have more to say at that time.
JoeBucsFan.com: Can you say when you first learned of it?
Koetter: I learned when we were on the field, coming off the field on Friday.
Again, whether Jameis is innocent was not relevant to his obligation to report the allegation to the NFL or the Buccaneers.
Per various interviews by JoeBucsFan.com, Jameis failed on that obligation and it will sink him for at least one game this season unless the NFL decides to go softer on Jameis than it has on other players.
A major question is whether Roger Goodell will choose to apply the current conduct policy to Jameis' case.
Following the Uber-driver allegation in March 2016, the league revised its conduct policy late that year to include the clear-reporting responsibility quoted in italics above.
When Jameis was first accused by the Uber driver, the conduct policy in effect (December 2014 edition) only specified that teams must report to the league any allegations, as well as educate employees of "this obligation to report" all allegations to the team that could, if true, violate the conduct policy.
So there is a little gray area there.
But it's reasonable to think Goodell and his team would have expected Jameis — or any other player with an assault-related accusation hanging out there — to come clean when the reporting rules were sharpened late in 2016.
That may be unfair, but that is reality. Jameis kept the allegation from the NFL and the Bucs, if team officials are to be believed, and there's no reason to think Goodell would let a cover-up slide.
Expect that alone to sink Jameis for at least one game this season, especially given the nature of the allegation.