"Pitch-And-Catch" Will Fix Red Zone
May 17th, 2018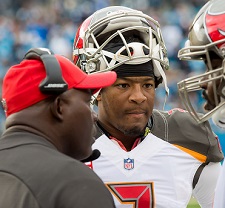 When Joe thinks of the football phrase "pitch-and-catch," Joe envisions a quarterback making a relatively easy throw to an open wide receiver.
If that's what Bucs quarterbacks coach Mike Bajakian was talking about today, then it sure was a finger-point at America's Quarterback, Jameis Winston.
The Bucs red zone troubles last season were well known. Tampa Bay was excellent at getting there and terrible at converting.
Why? Why? Why?
Bucs coaches have been studying that all offseason. As Joe wrote earlier, offensive coordinator Todd Monken said the Bucs simply "chose to suck." (See home page for story)
Bajakian offered a less complex answer.
"I can show you seven plays off the top of my head where if we just played pitch-and-catch, we're going to score a touchdown," Bajakian said. "And instead, maybe we don't convert on third down, or we take sack and now it's 2nd-and-long, we end up kicking a field goal on both of those instead of scoring a touchdown. So, it doesn't take a whole lot to improve.

"It's just a matter of execution, and as we pointed out to our players, you know you study those teams that are the top in the NFL. What you realize is they're not re-inventing the wheel. I'm thinking I'm going to watch the Philadelphia Eagles and I'm going to get all these great ideas about what they're doing in the red zone. You know what? Their plays are the same players we're running, except they're playing pitch and catch, or maybe their quarterback is scrambling and making a play for a touchdown."
Alright! It sounds like the fix is simple enough. Keep it simple. Play pitch and catch more often. Take what's there. Anyone got another cliché?
Big year ahead for Jameis with all those fancy weapons around him and coaches looking for very basic fixes, such as not fumbling and connecting with the open man.