Kellen Winslow Arrested
June 8th, 2018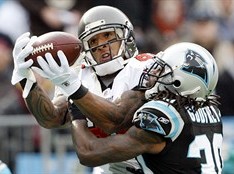 Kellen Winslow Jr. never missed a game in this three Bucs seasons and caught a whopping 218 balls at tight end.
Since then, he's caught his share of trouble.
There was the famous incident in a Target parking lot, where Winslow was apparently involved in an solitary, intimate moment. It had all the necessary elements of intrigue and drama: Vaseline, fast-food chicken, a woman allegedly seeing his erect penis, drugs, law enforcement and NFL policy, all at 5:30 p.m.
Now there's a new one.
Winslow was arrested for burglary in a southern California senior mobile home park, per NBC San Diego.
The reporting party indicated a black male adult had walked into a neighbor's residence.

The reporting party confronted the male because he did not recognize him as being the resident who lived there. After being confronted, the male left the residence and got into a black SUV and drove away.

Deputies checked the area and located the matching vehicle on El Camino Real. Deputies stopped the vehicle and contacted the driver of the vehicle. The driver was positively identified as the male subject who had been in the residence.

He was later identified as Kellen Winslow, II, age 35. Winslow was placed under arrest for residential burglary and booked into custody at the Vista Detention Facility.
Winslow is free on bail now and there's not much more information. No word on whether police had trouble with handcuffs because of slippery substances.
Bizarre dude, Winslow is. But at least he didn't steal from Team Glazer during his three seasons.