Can I Have That Ballot Back?
June 8th, 2018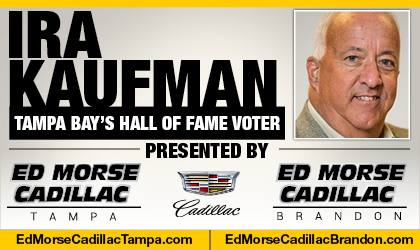 BY IRA KAUFMAN
The latest fiasco involving Terrell Owens isn't a big surprise – and doesn't that kind of say it all?
Why should anyone think Owens would change his bizarre behavior just because he's been fitted for a gold jacket. In this case, clothes don't make the man, they reveal him.
One of the most prolific wide receivers in NFL history says he's not going to Canton in August for his Hall of Fame induction. He says he means no disrespect to all the men honored before him, a group which includes Lee Roy Selmon, Warren Sapp and Derrick Brooks.
Bottom line? Owens is still a lousy teammate.
It's still all about him instead of the Class of 2018 as a whole.
This time, Owens has gone too far. This time, even his enablers are struggling to excuse his nonsense.
Leading up to the induction ceremony, Owens will dominate the story lines, even if he changes his warped tune and decides to show.
Nobody will be focusing on fellow new Hall of Famers Ray Lewis, Randy Moss, Brian Urlacher, Brian Dawkins, Jerry Kramer, Robert Brazile and Bobby Beathard. That's the way T.O.likes it … all eyes on him, even when he's making an ass out of himself.
On his worst day, Sapp wouldn't disrespect the Canton shrine like Owens just did.
Poor Value
When Brooks was elected in 2014, the first thing he told Hall of Fame President David Baker was that he wanted to help grow the NFL's shrine to excellence.
Let's try something here. For a moment, let's draw a comparison between Owens and Groucho Marx.
It was Groucho who once sent a letter of resignation to the Friar's Club, explaining: "I don't want to belong to any club that would accept me as one of its members."
That's called humor. Owens wouldn't know funny if it wrapped him in a horse collar.
You think John Lynch, already rebuffed five times as a Hall of Fame finalist, would ever consider skipping an induction ceremony? Ronde Barber, who didn't even make the final 15 in his first year of eligibility, can't wait to join the greats of the game.
The Pro Football Hall of Fame has a list of its values — commitment, integrity, courage, respect and excellence. On that scale, Owens is 1-for-5, batting .200.
He was an excellent wide receiver.
Solitary Confinement
But there's a reason Owens didn't make the Hall in his first two tries. Not enough voters in the room were willing to overlook his corrosive effect in the locker room.
Don't try to draw parallels between Sapp and Owens. One guy was boorish in public. The other guy ripped his quarterback in public. One guy didn't sign autographs. The other guy refused to sign on with the program.
When the selectors gathered in Minneapolis on the morning before the Super Bowl, I relented and voted for Owens as a Hall of Famer. A few people in the game who I respected had helped to change my mind, so I checked off Owens on my ballot.
Hey, Mr. Baker, can I have that ballot back?
A .200 hitter doesn't deserve a place with the immortals. Keep his bust in the room, but keep it far away from Selmon, Sapp and Brooks.
In fact, keep it off in the corner, all by itself.
Ira Kaufman is the most revered sports personality and writer in town. He has hung his hat at JoeBucsFan.com world headquarters since July 2016. Tampa Bay's only Pro Football Hall of Fame voter, Ira busts out columns here every Monday, Wednesday and Friday, and his award winning podcasts fire Tuesdays and Thursdays. You can also hear Ira on SiriusXM Mad Dog Radio Wednesdays during football season, and see him now on Mondays at 10:30 p.m. on Spectrum Sports 360 (aka BayNews 9). Ira also is part of the FOX-13 Tailgate Sunday show and enjoys beet salads, Riesling, Chiefs victories and needling Joe.