Jameis Deal Shouldn't Stop Bucs From Winning
June 22nd, 2018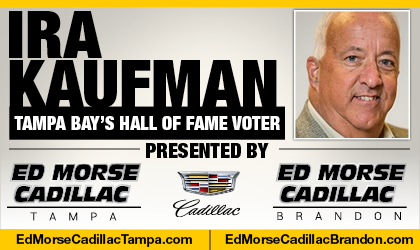 BY IRA KAUFMAN
There's a fresh stain on the face of this franchise. Even Jameis Winston's most ardent supporters would acknowledge the imminent blow to his reputation.
But Winston is not a one-man show and the Bucs are not a one-man team … at least they shouldn't be.
Hard knocks have come once again, but adversity reveals character and we are about to find out what this team is made of.
The cynics emerged in full throat as soon as the 2018 schedule was announced in April, pointing out a potentially daunting early slate. And now, with the expectation that Winston won't be available against the Saints, Eagles and Steelers, there's a growing sense of doom festering in Buc Nation.
To that, I say shame on you.
If the Bucs can't win a game or two in September, then they're not the team Jason Licht and Dirk Koetter think they are. In case anyone forgot, Ryan Fitzpatrick went 2-1 in relief of an injured Winston last season, playing better than anyone had a right to expect.
Skeptics Delight But No Mulligans
But here's Nate Burleson of NFL Network, offering up a crying towel to Buc faithful. "A suspension like this can derail your season," he says.
Yes it can — if you let it get the best of you.
Kwon Alexander has already heard from the skeptics, so he went to Twitter to assure Buc fans the battle has not been lost.
"Haha, you guys are funny!" Alexander wrote, replying to a local sports radio.host who suggests the 2018 season should be deemed toast. "This man said the season over already."
When I checked out the influential ProFootballTalk.com Friday, I was greeted with the following headline: "With or without Jameis Winston, Bucs may be staring at an 0-3 start."
There are no excuses in the NFL, or at least there shouldn't be. Losing your starting quarterback for a short period shouldn't mean you get a mulligan for a bad season.
How many times have you heard this is a quarterback-driven league? If it's all about the guy under center, how did the Jaguars almost reach the Super Bowl with Blake Bortles?
Didn't the Eagles just win it all with a backup quarterback nobody else thought twice about? Didn't the Titans reach the AFC divisional playoff round, despite the struggles of Marcus Mariota?
It's about team — as the Steelers proved in 2010.
Bucs Can Answer Roger Goodell
That was the year Ben Roethlisberger was suspended for the first four games. Instead of whining, Pittsburgh broke from the gate 3-0, capped by a 38-13 rout in Tampa against a Bucs team that finished the year with 10 wins.
Dennis Dixon and Charlie Batch kept the Steelers afloat until Roethlisberger returned and Pittsburgh ended up in the Super Bowl.
During that 3-0 start, the Steelers forced 10 turnovers. Rashard Mendenhall ran hard and effectively, chewing up clock. Correct me if I'm wrong, but Winston's absence in New Orleans doesn't preclude Gerald McCoy and company from dumping Drew Brees on his ass four times.
It doesn't mean Peyton Barber can't run for two yards on third-and-1 with five minutes remaining and Tampa Bay clinging to a 23-21 lead.
The men at the top of the Buc pyramid can't afford to feel sorry for themselves. Another 5-11 season would surely mean that a new regime would get to decide whether Winston is the right guy to lead this team forward.
Good teams find a way to stay on track during bumpy times. The national media and the Vegas oddsmakers have already buried the Bucs. Even some supporters have lost faith.
It's all up to the men in that locker room. They can demonstrate resiliency or they can fold like a cheap pewter suit.
Roger Goodell has spoken. In a few months, we'll find out what the Bucs have to say.
Ira Kaufman is the most revered sports personality and writer in town. He has hung his hat at JoeBucsFan.com world headquarters since July 2016. Tampa Bay's only Pro Football Hall of Fame voter, Ira busts out columns here every Monday, Wednesday and Friday, and his award winning podcasts fire Tuesdays and Thursdays. You can also hear Ira on SiriusXM Mad Dog Radio Wednesdays during football season, and see him now on Mondays at 10:30 p.m. on Spectrum Sports 360 (aka BayNews 9). Ira also is part of the FOX-13 Tailgate Sunday show and enjoys beet salads, Riesling, Chiefs victories and needling Joe.