"I'd Like Him To Continue To Infect People"
June 2nd, 2018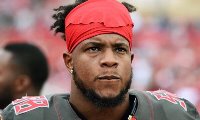 The underlying failures of the Bucs' defense last season are a bit mysterious.
Joe's not talking defensive linemen and cornerbacks here.
It had to be more than just a lack of talent that led to the Bucs allowing more yards than any other team.
Coaching? Passion?
If you heard linebackers coach Mark Duffer on a recent episode of the Ira Kaufman Podcast, then you might think the Bucs were lacking enough fire for the game on the defensive side of the ball.
Duffer was asked about matching Kwon Alexander's fire as his coach. Duffer, a 44-year coaching veteran, quipped that Kwon had to match his passion, but Duffner quickly said Kwon makes people around him better and the Bucs need more of what he offers.
"Football, especially at linebacker and defense, it's about actions. It's about energy. It's about enthusiasm," Duffner said. "You know, I can see that when we go to the library we got to be quiet, or perhaps at church at different times. But when we're playing football, not nonsensical energy, but stuff that's appropriate and focused on us getting better. He's got that and I love that.

"… No, [you can't coach that] you got to bring that. And really, frankly, in this game, that's a positive. When people have energy and have enthusiasm, people tend to feed off of that and I'd like [Kwon] to continue to infect people with that enthusiasm."
Hopefully, the many new pieces added to the defense lean more toward Kwon than, say, the Chris Baker side of life. And it sure would help if Kwon stayed healthy this season, something he might have to do in order to command the kind of contract he wants for 2019.