"We Didn't Have The Same Effort"
June 2nd, 2018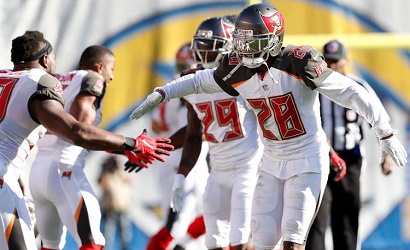 Separating coachspeak from reality isn't always easy.
For example, consider a common take from Dirk Koetter and Bucs officials.
The head coach said he liked the fight in his players and was quick to praise the effort on the field last season. Ownership, coaches and executives even weighed in to commend the Bucs on their battling hard through the very last play of the season.
But Joe has heard Bucs players question the consistency of their effort. And then there was this take below from new defensive line coach Brentson Buckner, who was asked about the demise of the Tampa Bay defense.
Remember, Buckner was hired several weeks after the end of last season, after the Bucs renewed the contract of former defensive line coach Jay Hayes and then fired him. So Buckner first met his players after they had a chance to review the failures of 2017 without him.
Buckner noted that in 2016, "the [defense] was in the top-10 in [some categories]" before falling to the basement of the league.
"Being a coach and a player in this league, it's a fine line between good and bad. And sometimes you've got to look yourself in the mirror and see where did I go wrong in that," Buckner said. "And I think what they did even before I got here, those guys sat back and they observed themselves, and were like, 'Wow. We didn't have the same effort. We made some mental mistakes that helped us to end up that way.' So now they've come back working with an attitude, trying to correct those things."
Judging effort is such a gray area, often even for the guy being judged. But to hear Buckner talk about Bucs defensive players reviewing film and realizing their effort was substandard is worth noting.
Joe was never in the rah-rah camp doing smiley jumping jacks because the Bucs lost seven one-score games and competed against playoff teams late in the year. Sure, it was better than the alternative, but none of that stuff comes close to making a team good, and it certainly doesn't help predict anything.
The Bucs are banking on Buckner and five new defensive linemen to raise the intensity and the games of the entire defense. Joe agrees and liked the strategy.
But still, someone has to change the defensive culture and get these guys competing and playing with their hair on fire from the moment training camp starts. Without that, not enough will change to put the team in the playoffs.