"Honest" Dirk Koetter
June 17th, 2018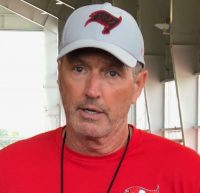 Flash back to January 1, the day after the 2017 Buccaneers season officially was flushed down the toilet.
There was Dirk Koetter refusing to play games when it came to talking about a free agent that might be difficult to re-sign.
Koetter told Joe and local media that he cornered Brent Grimes that day to express his desire for a 2018 Grimes return. Many coaches would have been less straightforward knowing their team would have to negotiate with Grimes and knowing talk like that could artificially inflate his market value.
That's just one example of Koetter having the respect of his players for being an extraordinarily straight shooter.
They love that about him, even when he gets it wrong. Joe asked one Buccaneer last week about why, in retrospect, he thinks Koetter stuck with Doug Martin so long last year after it was clear Martin didn't have it.
The Buccaneer questioned didn't want his name revealed but said it was only because Koetter genuinely believed in Martin. "That's one thing about coach. He's honest. He's doing whatever he believes he needs to do to win. Just because some players disagree sometimes, that doesn't mean they believe his motive is wrong."
Linebackers coach Mark Duffner talked about Koetter's honesty on the Ira Kaufman Podcast, and Grimes brought it up to Kaufman last week.
"Coach Koetter and Coach Smith are very smart and very honest. Honesty is always a key. They know what they're doing. Those guys have seen a lot and they have a plan," Grimes said.
Koetter's direct way with his players is one reason Joe has his undies all bunched about Koetter often talking about how meaningful it is that the Bucs were 3-7 in one-score games last year. Koetter may believe it, but Joe's terrified that players might start to believe that they actually were close to winning. That's a weak and dangerous mindset.
On the upside, Joe believes Koetter's direct communication is a big reason why the Bucs had a spring practice season with a lot more urgency and Joe is confident it will carry over to training camp. This teams knows, to a man, that a soft and losing start to this season will just about blow up the regime.