1-On-1 With Brent Grimes
June 13th, 2018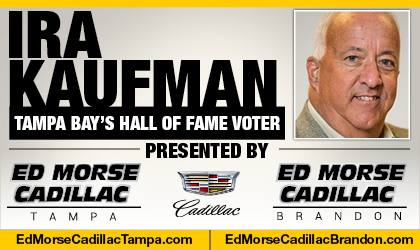 Ira Kaufman is the most revered sports personality and writer in town. He has hung his hat at JoeBucsFan.com world headquarters since July 2016. Tampa Bay's only Pro Football Hall of Fame voter, Ira busts out columns here every Monday, Wednesday and Friday, and his award winning podcasts fire Tuesdays and Thursdays. You can also hear Ira on SiriusXM Mad Dog Radio Wednesdays during football season, and see him now on Mondays at 10:30 p.m. on Spectrum Sports 360 (aka BayNews 9). Ira also is part of the FOX-13 Tailgate Sunday show and enjoys beet salads, Riesling, Chiefs victories and needling Joe.
BY IRA KAUFMAN
Who let the dogs out? Mike Smith, that's who.
At least that's the wish for Tampa Bay defensive backs as an overhauled front offers the promise of a pass rush seldom seen around these parts during a lost decade.
One by one, Jason Licht began stacking defensive linemen like cordwood in the offseason, spurred by self-preservation and the memory of an NFL-low 22 sacks that left Buc cornerbacks stranded on defenseless islands.
Brent Grimes knows the difference a dynamic defensive front can make.
He turns 35 next month and Grimes speaks for the entire Buc secondary when he starts talking hurries and sacks.
Grimes may have a low-key demeanor, but even an 11-year NFL veteran finds himself excited about the prospect of Drew Brees running for his life in the season opener at the Superdome.
"It's football, so everything works together, everything ties together and everyone feeds off each other," Grimes says. "That's why it's called the ultimate team sport. Pass rush and coverage work hand-in-hand. When a quarterback's uncomfortable, it makes him throw the ball earlier than he wants to.
"He's not setting up comfortably and his reads will be different. With more pass-rush pressure, a lot of things become easier. You become more aggressive, so to speak, in the secondary."
Doesn't that make it easier to jump a route?
"You have more freedom to, but obviously you can't take ridiculous chances," Grimes says. "You can get a sense for what the quarterback is feeling and if he's feeling uncomfortable, he might be making some bad decisions. When opportunity comes your way, you have to make your play."
Face-Punch Wisdom
In 25 career starts against the Bucs, Brees is 16-9 and has been sacked only 33 times.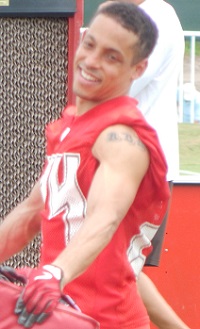 Although he will never be confused with Cam Newton or Aaron Rodgers in terms of mobility, Brees has gone 57 consecutive games without being sacked more than three times.
If you can't sack him, hit him.
Repeatedly.
"If every time you walk out of your house, somebody punched you in the face, you'd start getting worried about walking out," says Grimes. "If somebody is constantly getting hit, it gets annoying. It makes you uncomfortable. It makes you rush your decisions."
Happiness & Confidence
Grimes re-signed with the Bucs just before the start of free agency, where he undoubtedly would have attracted several suitors. He and Miko have settled in the Bay area and settled in on this franchise.
"It was an easy decision," he says. "I've had a lot of fun here. This team is great. I like the players and I like the coaching staff. It's a good vibe. Now, we've got to put more wins on the board."
Grimes played hurt during part of the 2017 season, missing three games with a shoulder injury. He was sidelined for the 30-10 midseason loss at New Orleans and he's looking forward to the opener, when he will be joined by some new potential game-changers up front.
"My body feels great," Grimes says. "Coach Koetter and Coach Smith are very smart and very honest. Honesty is always a key. They know what they're doing. Those guys have seen a lot and they have a plan."