"The Winston Camp Is Prepared For The NFL To Levy A Suspension"
June 20th, 2018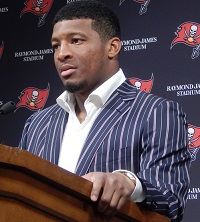 In April, Joe wrote in great detail to expect Jameis Winston to be suspended by the NFL, but that unfortunate reality has become much clearer in the past few weeks, culminating in a fresh report today.
This afternoon, veteran ESPN Tallahassee (97.9 FM) host Jeff Cameron, a who covered Jameis extensively at FSU and maintains a strong relationship with Jameis' camp), said on his show that the NFL will suspend Jameis.
"What he'll be suspended over is a failure to report," Cameron said of Jameis today on the air. "And that's frustrating. That's a league obviously attempting, and understandably because they've made previous mis-steps, transgressions, they're now apt to protect themselves to the nth degree and protect the shield and so on and so forth.

"… The league can't worry about what's real and what isn't. They have to go by perception and PR and protect themselves.

"This is what I do know: the Winston camp is prepared for the NFL to levy a suspension of some kind," Cameron continued. "The thought from the Winston camp is that would be a maximum of three games. I do not know at this time whether or not they plan to appeal, and I do not know that three games is an accurate number. I've been told that would seem to be the maximum number of games that the suspension could be. It's also likely that it's less than that and it's one game."
Via Joe's link above in the opening paragraph, you can read about the NFL conduct policy and how it can apply to Jameis for a suspension, per Roger Goodell's discretion.
NFL rules require a timely reporting of any player behavior or accusation that, if true, would violate the conduct policy. And the case regarding the alleged Jameis groping of a female Uber driver back in March 2016 would qualify. Jameis was accused publicly in November 2017, via a BuzzFeed report that revealed Jameis was aware of an accusation, and then the NFL launched its investigation hours later. Bucs officials have said they had no knowledge of the accusation prior to November of last year, including Dirk Koetter.
The following is Joe's exchange with Koetter on Nov. 22.
JoeBucsFan.com: Coach, there'll be a lot fans and just people across the Bay area tomorrow, Thanksgiving, talking about the Jameis Winston investigation. Is there anything that you'd want them to know or consider while they talk about it?

Dirk Koetter: No. Because I can't talk about it. That is in the hands of the NFL right now. And we're cooperating with that investigation to whatever extent that is I don't even know. There's just nothing I can say about it right now. It's got to run its course. And when it does, we'll have more to say at that time.

JoeBucsFan.com: Can you say when you first learned of it?

Koetter: I learned when we were on the field, coming off the field on Friday.
Cameron's discussion today jibes with what Joe has been hearing over the past two months, that it's just a matter of when the NFL slaps a suspension on Jameis for fear that any other outcome would result in the league appearing soft on sexual harassment in the midst of the #MeToo movement, leading to a public relations nightmare.
Proof of guilt or innocence is not the issue here. Cameron highlighted that as well, and you can hear his full take today here with producer Tom Lang.
Fair or not, that's how the NFL works.
Joe knows Cameron personally and the quality of his sources. He is trustworthy.
Fingers should be crossed across the Tampa Bay area, and one can only hope the NFL will factor in Jameis' tremendous and consistent work in the community.