Money-Down Musings
June 20th, 2018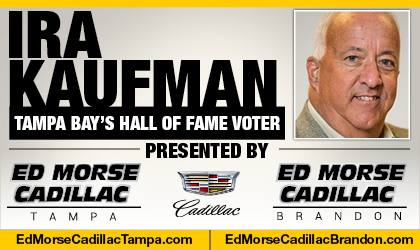 BY IRA KAUFMAN
He's been called a beast, an animal and a savior.
Today, he's viewed like he should be — as an X factor. Not an afterthought, but also not a critical component.
The Bucs are no longer relying on Noah Spence to lead their assault on opposing quarterbacks … and that's a good thing.
The textbook definition of an X factor is "a person that has a strong but unpredictable influence." Can't you just see Jason Licht raising his hand because he knows Spence fits the description?
For two years, Tampa Bay coaches and executives counted on Spence to come off the right edge with fury. The 39th pick in the 2016 draft wasn't bad as a rookie, registering 5.5 sacks despite starting only three games.
Spence, only 24, started off last season with a splash play, nailing Mike Glennon for a sack-fumble that was recovered by Lavonte David in a lopsided opening-day victory against the Bears.
Who knew it would be Spence's only takedown of the year?
Spence has shouldered much of the blame for Tampa Bay's woeful pass rush in 2017. His shoulder kept popping out of place, raising concerns among Buc fans as Spence's weight dropped to 228 at one point. That's the body of a strong safety, not a defensive end.
Given the facelift along Tampa Bay's defensive front, Spence has the potential to blend in as a contributor. But unlike the past two seasons, the Bucs won't be bent out of shape if Spence's shoulder gets bent out of shape.
Icon Endorsed
Still, Spence can help as the Bucs seek their first double-digit sacker since Simeon Rice posted 14 takedowns in 2005.
"I'm pretty sure Noah's ready to go," says Dirk Koetter. "Noah's had a hard time staying healthy, two unfortunate injuries. He did all he could do, he got them fixed. So, he's taking care of his body. He has his weight where it needs to be. Physically, he looks great out there."
When Rice slipped into Buc camp last August, he took some of the defensive linemen aside to show them tricks of the trade.
"Simeon taught me things in five minutes that I'd never even heard of, or even thought to put into my game," Spence said.
That startling quote didn't do former defensive line coach Jay Hayes any favors. When Rice looked at Spence up close and personal, he had a flashback.
"Noah reminds me very much of myself," Rice said. "He has the talent and the capabilities. Now, he has to allow it to shine more. Don't hide it from the world."
Although new defensive line coach Brentson Buckner has a lot of potential alignments at his disposal, it would be surprising if Spence isn't in the mix on third down.
That's why he's here, to supply a burst on the money down. I like the idea of Jason Pierre-Paul at left end, Spence at right end and Vinny Curry and Gerald McCoy charging inside in sure passing downs. Finally, there is quality depth up front with five new parts. That makes production from Spence a bonus rather than a necessity.
"I think it's going to make us better because with less reps we're going to be not as tired when we get out there so we can play our best," says Spence. "Less people tired, less injuries, so it's going to be good."
Especially if the X factor does his part.
Ira Kaufman is the most revered sports personality and writer in town. He has hung his hat at JoeBucsFan.com world headquarters since July 2016. Tampa Bay's only Pro Football Hall of Fame voter, Ira busts out columns here every Monday, Wednesday and Friday, and his award winning podcasts fire Tuesdays and Thursdays. You can also hear Ira on SiriusXM Mad Dog Radio Wednesdays during football season, and see him now on Mondays at 10:30 p.m. on Spectrum Sports 360 (aka BayNews 9). Ira also is part of the FOX-13 Tailgate Sunday show and enjoys beet salads, Riesling, Chiefs victories and needling Joe.