Vinny Curry's Message To Bucs Fans
May 28th, 2018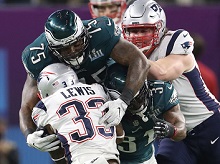 New Bucs defensive end/defensive tackle Vinny Curry wants you to know something and Joe is the messenger.
After a spring practice session last week, Curry told Joe to what Bucs fans should know about Curry.
"Know I'm gonna bring it. I'm gonna bring it every Sunday," Curry said. "I'm going to leave it all on the field. One thing, when you come to a Bucs game, you're going to say No. 97 left it all out there. And that's all you can really ask as a player of a teammate and as a fan, just give us everything you got, empty out the tank. As a player, you deserve it for yourself, you deserve it for the team. Fans deserve to see you leave everything out there."
Well, it's safe to say that Curry is no Chris Baker. They certainly don't think alike.
Joe wanted the Bucs to chase Curry the minute whispers started in Philly that he would be cut. The reason was simple, the Bucs needed an upgrade and Curry was known for playing and working hard, even if his 2014 breakout season made him sort of a one-hit wonder.
Curry turns 30 in June. If he still has gas in that "tank" he speaks of, then the Bucs should at least have a consistent, versatile but unspectacular performer.