The First-Half Divide
May 28th, 2018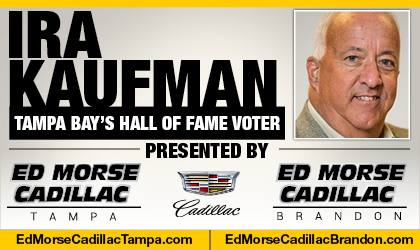 BY IRA KAUFMAN
If the Buccaneers brain trust is taking suggestions for a theme song to blare over training camp loudspeakers this summer, I've got just the tune.
"Start Me Up" by a little group you may have heard of. The Rolling Stones are still bringing crowds to their feet with this rousing anthem and Dirk Koetter is certainly into the message.
"If you start me up. If you start me up I'll never stop."
That's music to the ears of every Stick Carrier who plans on cheering on the Bucs when they report for training camp in two months.
Whether we're talking about games or seasons, this franchise is mired in a fall funk that simply can't go on.
Let's start with the early standings, shall we? Since 2013, Tampa Bay's record at the halfway mark is a cumulative 9-31. That covers three head coaches, two general managers and thousands of turned-off fans who didn't renew their season tickets.
By year, it's been 0-8, 1-7, 3-5, 3-5 and last year's 2-6 mark. The second-half record (17-23) is nothing to celebrate, but comparatively, the Bucs have been a juggernaut after Halloween.'
Gasping For Air
That 3-5 start in 2016 sabotaged what could have been a special season, highlighted by a five-game winning streak after the bye week.
Tampa Bay still came up short in December because the margin for error was so slim.
The early schedule for 2018 appears challenging, but so what? The Glazers can't wait to see the new-look Bucs flex their muscles against the Saints, Eagles and Steelers, who went a combined 37-11 last year.
The Bucs haven't had their heads above water at the season's midpoint since 2010, which just happens to be the last time they won 10 games.
The NFC South is too tough a division to escape an early hole.
Expecting to go 7-1 down the stretch isn't realistic — and everyone at One Buc Place knows it.
This poor-start syndrome extends to games as well, especially on the road. In setbacks at Minnesota, Arizona, Buffalo and New Orleans, the Bucs were outscored 71-12 before halftime.
In the immortal words of Cris Carter, c'mon, man.
Clear Blame
Jameis Winston has played 45 games as a pro. Of his 69 career TD passes, only 10 have come in the opening quarter.
"If you look at Jameis' career, when Jameis gets off to a fast start, we usually play pretty well," Koetter says. "When he gets off to a slower start, not as well. That's one of the things that falls on the offensive coaching staff — to have the right game plan early in games that we don't have to tinker around to find it."
There were too many times last year when Tampa Bay's offense floundered early. By the time the Bucs found their rhythm, they were too far behind.
The NFL has long been seen as a finishing school — finish your blocks, finish your tackles, finish your drives. That's understandable, but lets' get real … lousy starts are a major issue.
In the past five seasons, the Bucs are 18-14 when leading at the half and 7-40 when trailing at the half. Crisp play at the start of a game builds confidence. Crisp play at the start of a season builds a cushion.
Gentlemen, let's get started.
Ira Kaufman is the most revered sports personality and writer in town. He has hung his hat at JoeBucsFan.com world headquarters since July 2016. Tampa Bay's only Pro Football Hall of Fame voter, Ira busts out columns here every Monday, Wednesday and Friday, and his award winning podcasts fire Tuesdays and Thursdays. You can also hear Ira on SiriusXM Mad Dog Radio Wednesdays during football season, and see him now on Mondays at 10:30 p.m. on Spectrum Sports 360 (aka BayNews 9). Ira also is part of the FOX-13 Tailgate Sunday show and enjoys beet salads, Riesling, Chiefs victories and needling Joe.