Preparing To Pounce On Vinny Curry
March 8th, 2018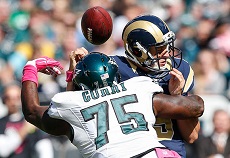 Many Bucs fans were troubled after watching defensive ends Will Clarke and Ryan Russell combine for seven starts and a ton of ineffective pass rushing last year.
And that angst multiplied rapidly during the past week, when the Bucs failed in their quest to trade for defensive end beast Robert Quinn, and they passed on Pro Bowler Michael Bennett.
So now what?
The Bucs still need bodies at defensive end. They have Noah Spence and Robert Ayers, but those are broken bodies. Ayers can still play but age has run him down. Will Gholston had an off year with a new injury in 2017.
Bennett went via trade to the Eagles, and word now out of Philadelphia says DE Vinny Curry will be cut, unless the Eagles can find a sucker for his too-big salary by next week. Curry can definitely play; he's just not worth the $10 million or so he was going to earn under his current contract.
A second-round pick in 2012, Curry hasn't missed a game since 2013. This nugget from NBCPhiladelphia.com yesterday sort of sums him up well.
"Curry wasn't terrible. He got decent pressure on the quarterback, and he was better against the run than he had been in previous years. But the big plays didn't come. Curry has forced one fumble over the last three seasons, and 101 players league-wide have more sacks than he does since opening day of 2015.

"This was Curry's first year as a starter, and he played the third-most snaps of any Eagles defensive lineman – 576, only 31 fewer than Fletcher Cox."
Solid and durable football player, Curry is, but he hasn't been special through the past three seasons. However, that's the kind of guy new Bucs defensive line coach Brentson Buckner is supposed to specialize in.
Dirk Koetter said Buckner's reputation is of a coach who revives careers — maximizes players' talents better than most.
Therefore, Joe believes general manager Jason Licht should be waiting with a bag full of Team Glazer loot to sign Curry to a modest contract as soon as the free agency dinner bell rings on Wednesday. He's been a popular player in Philly, he has a ring, and he's younger than Ayers. He can only help.