It's Been A While At Safety
May 30th, 2018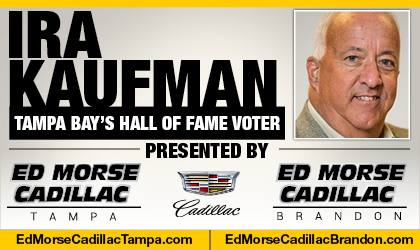 BY IRA KAUFMAN
At times, he looked like a rookie. At times, he looked like a star.
The Bucs are hoping the time is now for Justin Evans to show up in a big way. So far, so good. Evans has been a standout during OTA sessions, but nobody wants to read too much into underwear football.
The real test will come in the season opener at New Orleans, where a second-year safety faces one of the premier quarterbacks of his generation. And if the overhauled defensive line does its job, Evans will have a chance to make a difference.
"We thought a lot about Justin when we drafted him," says defensive backs coach Brett Maxie. "We felt like he did have a lot of potential and I think his best football is ahead of him. He just needs to continue to work on his craft just like all of our players."
There's a lot to work with here.
Evans has the speed and range to close in on the football in a hurry.
He has the physicality you like at the safety position and he doesn't lack for confidence.
Not one bit.
Let's remember we're talking about a 22-year-old who missed much of the 2017 offseason due to a knee injury. When he made his first NFL start against the Patriots on a Monday night in October, he showed a national audience why Jason Licht pounced on him with the 50th overall pick.
Tested & "Freakish"
Tom Brady had thrown 264 passes without an interception before Evans picked him off on an overthrow. Before the evening was through, Evans posted eight solo tackles, two passes defended and came close to two other interceptions.
"This guy is a freakish athlete and that is why he was drafted where he was," Dirk Koetter said after the 19-14 setback. "Many times, it happens that way when a guy is just kind of sitting back and then he is thrust into there – because of injury in this case — and then they take off. There is no denying his talent and it showed up big in the game."
Like any rookie, Evans struggled at times.
At Arizona, he lost track of a pass to John Brown that ended up as a touchdown, with Evans hopelessly out of position.
Five weeks later in Miami, Evans showcased his strengths and weaknesses in glaring fashion. After jumping a slant route and making an interception, Evans was beaten by Kenny Stills on a long TD pass that forged a 20-20 deadlock before Tampa Bay pulled out a win.
Correction & Production
The knock on Evans coming out of Texas A&M was that he was a big hitter who missed a lot of tackles because of poor fundamentals. That lack of technique didn't show up in Tampa as he made 66 stops.
More importantly, he tied for the team lead with three picks before missing the final two games with an ankle injury.
It's been awhile since the Bucs featured a safety with the athleticism of Evans. And if the pass rush lives up to its billing, Evans will have major opportunities to shine.
"I think long term, he is going to make a lot of plays," says Mike Smith. Once he gets the feel of the NFL game and the pacing of it and the pace of the season, he is going to be a really good player."
Ira Kaufman is the most revered sports personality and writer in town. He has hung his hat at JoeBucsFan.com world headquarters since July 2016. Tampa Bay's only Pro Football Hall of Fame voter, Ira busts out columns here every Monday, Wednesday and Friday, and his award winning podcasts fire Tuesdays and Thursdays. You can also hear Ira on SiriusXM Mad Dog Radio Wednesdays during football season, and see him now on Mondays at 10:30 p.m. on Spectrum Sports 360 (aka BayNews 9). Ira also is part of the FOX-13 Tailgate Sunday show and enjoys beet salads, Riesling, Chiefs victories and needling Joe.