Last Buccaneer Missing?
May 30th, 2018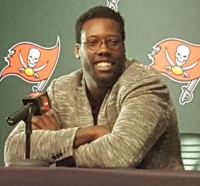 Not every spring practice session is open to media, but the Buccaneers do provide photos of practice to fans via various platforms.
Attendance is not mandatory at these practices, per league rules. However, skipping multiple spring practices usually means a player believes he has something better to do.
And that's often a big ol' red flag.
To the best of Joe's knowledge, and per photos provided by the Buccaneers, newcomer stud defensive end Jason Pierre-Paul hasn't shown up yet after reporting to work with teammates in mid-April.
He appears to be the last missing Buccaneer. Cornerback Brent Grimes was seen in practice pictures from yesterday's session, including him performing what appears to be a handstand.
Joe had no issue with Grimes' absences. He turns 35 soon and knows Mike Smith's defense inside and out. Pierre-Paul, 29, is a different story. He doesn't know Smith's defense or Brentson Buckner, or his teammates.
Yes, without question, Pierre-Paul can have a fantastic season without showing up until training camp. But Joe's not going to ignore JPP passing on practice. He was often there during his New York Giants tenure. Right now, it's a little disheartening.
Joe sure hopes JPP is healthy and/or isn't having any family-related concerns.