Potential Eagles Trade Looms
May 5th, 2018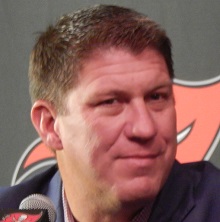 Interesting developments have Joe hearkening back to what general manager Jason Licht did last season with newly-signed free agent safety J.J. Wilcox.
You remember Wilcox, he was a key March 2017 signing and then was traded to the Steelers before the season kicked off. The Bucs had snagged weed-whacked safety T.J. Ward and Wilcox became expendable.
Fast-forward to this offseason, when the Bucs signed defensive tackle Beau Allen, a rotational player with the Super Bowl champion Eagles. Allen was beloved in Philly but, like most Super Bowl teams, the Eagles couldn't pay everyone and Allen brought his run-stuffer game to Tampa.
One guy the Eagles did pay was defensive tackle Tim Jernigan, whose salary sort of pushed out Allen.
Philly traded for Jernigan in April, paid him a giant new deal in November, and then just cut back his contract this week after he blew out his back this offseason during an undisclosed activity and had disc surgery. He is highly questionable for opening day.
The Eagles also have a question mark with their new defensive end/tackle Michael Bennett, who could get suspended for allegedly shoving a woman in a wheelchair. He was indicted in March.
This has Joe thinking the Eagles are yearning to have Allen back on their roster, where he missed just one game over the past four years.
With the Bucs drafting Vita Vea (Allen must have felt like he had his groin kicked) and newcombers Vinny Curry and Mitch Unrein having loads of experience and decent success playing defensive tackle, it's reasonable to think Licht and the Eagles might start talking about possibilities once training camp ends.
If the Bucs' D-line stays healthy, and Stevie Tu'ikolovatu (last year's seventh-round pick) looks like he can contribute, Joe easily could see Licht and the Eagles making a deal to send Allen back to Philly.
Something to file away in the back of your mind — and a peek into how Joe's Bucs obsession operates on a lazy May weekend.