Peyton Barber, Dirk Koetter And "Working At A Car Wash"
May 8th, 2018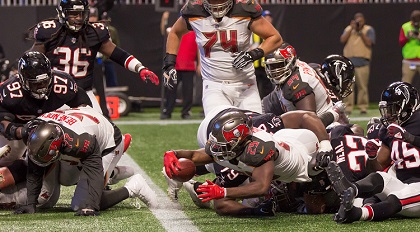 It's easy to count out Peyton Barber or think of him as a second-class running back since the Bucs drafted explosive Southern Cal rookie back Ronald Jones with the No. 38 overall pick two weeks ago.
Yes, 23-year-old Barber has done everything the Bucs have asked of him through his 163 carries over the past two seasons, and he's developed his pass blocking. But most Bucs fans see Barber as backup material.
That could be the correct assessment — or it could be dead wrong.
Jeff Shearer of AuburnTigers.com penned a gripping feature of Barber late last week and it dove into Barber's challenging upbringing, learning disabilities and the fire that burns within him.
General manager Jason Licht has said he wants' players who don't have the "five-star virus." Well, Barber likely epitomizes what Licht wants.
In the feature, Barber, who took a full course load at Auburn this spring, talked about the moment he learned he was promoted to the Bucs roster from the practice squad early in the 2016 season.
"'You're going to be playing this week,'" [Dirk Koetter] said, informing Barber that a veteran running back had been released. "'We really felt like you were the better fit for the team. You're a lot younger, you're a lot faster, you're a lot more physical. You just have to keep learning your plays.'"
There's plenty more via the link above, including Barber detailing how odd it was to be a college star without fans knowing what your life as a struggling kid from a homeless family was really about.
At the Combine, Barber shared publicly for the first time the gravity of his family's financial struggles.

Earlier, when he had announced on Instagram his plans to enter the draft, not all of his followers supported Peyton's decision.

"People telling me that I wasn't ready," Barber said. "I remember seeing one post. 'This kid is going to be working at a car wash before the year is out.' 'He's afraid of competition with Jovon [Robinson].' That's something that fed me and fueled me."
Joe wrote back on April 6 that Ronald Jones would be the ideal complement to Barber. Maybe that should be written the other way around, or maybe not.
Regardless, Joe expects quite an intense competition at running back from those two this spring and summer. It'll make the Bucs better, and it'll be quite a shift from the epic nonsense at the position last season.