It's Father Dungy! Bucs Make 2018 Ring Of Honor Inductee Official
May 8th, 2018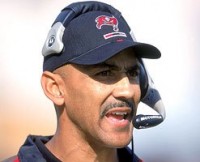 The moment the 2018 schedule was released, Tampa Bay's annual pick to enter the Buccaneers Ring of Honor became a no-brainer.
For those unaware, Hall of Fame coach Father Dungy didn't just patrol the sidelines for the Bucs and Colts. He also won a ring as a defensive back for the Steelers, even tackling Hall of Fame running back Tony Dorsett late in Super Bowl XIII.
Now an analyst on Sunday Night Football, Dungy will be inducted into the Ring when the Bucs host the Steelers on Monday Night Football on Sept. 24.
It's an honor well-deserved. You can't tell the story of the Bucs (at least not the happy chapters) without featuring Dungy and his six-year run as head coach and resurrector-in-chief.
Joe can't resist asking. Will Lovie Smith join the many standout former Dungy coaches in the house that night?