Are The Bucs Jonesing?
April 6th, 2018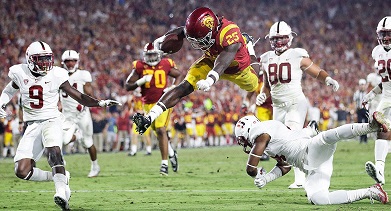 Let's face it, the college running back most Bucs fans are not chatting about over beers is Ronald Jones II, and it's only because he played 3,000 miles away at the University of Southern California.
That's just how it is around these parts. Regional bias lives, especially when there are stud running backs in the draft from the east coast and the SEC.
Jones is a game-breaker, a slasher type who also runs between the tackles. USC pounded him last year with 261 carries and he responded with 1,550 yards and 19 touchdowns on the ground. (You can see all those TDs in the video below.)
In fact, Jones averaged 6.1 yards per carry through 591 college carries as a Trojan who was ready as a true freshman. The young man is just 20 years old.
Jones picked up unwanted notoriety when he pulled up with a hamstring issue during his 40-yard dash at the NFL Scouting Combine five weeks ago. But at his Pro Day yesterday, Jones ran a strong 4.48 time in the 40, though it's unclear whether his hamstring was even 100 percent ready.
Joe sees Jones as an excellent complement to Peyton Barber. If the Bucs really believe in Barber (and Joe thinks they do), then it's likely Tampa Bay has Jones as the No. 2 running back on their board after Saquon Barkley.
Former NFL team scout turned NFL Network year-round draft guru Daniel Jeremiah ranks Jones as the 20th best overall player in the the draft and calls him one of the most "explosive" players available.
"Jones is a threat to score every time he touches the ball and I love his toughness and upside in the passing game," Jeremiah wrote.
Joe advises you to remember how much the Bucs talked about getting "explosive" last offseason, hence the signing of DeSean Jackson and then the drafting of O.J. Howard. But did the Bucs actually get more explosive in their performance?
Perhaps Jones completes their puzzle.
Ronald Jones' 20 TDs in 2017
(@rojo)pic.twitter.com/puw34NXp8o

— 2018 NFL Draft (@DraftRT) March 2, 2018