"Obviously, He's The Best Player On Our Defense"
May 16th, 2018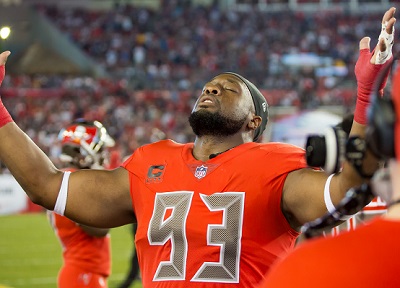 Defensive coordinator Mike Smith was guarded in his chat session today with Joe and local media.
Smith often takes a CEO-style public approach, especially when compared to Dirk Koetter and some Bucs assistant coaches.
Today, Smith held his first news conference since the end of the 2017 season and he was hit with all kinds of questions. There were few bold statements, unique takes, or singling out of players, but one did stand out.
Smith drew a clear line in the sand when asked about No. 93.
"We know this; Gerald McCoy has been a Pro Bowl player for a long time and he's obviously the best player on our defense," Smith said.
That's the highest praise right there. And Jason Pierre-Paul is now in the house, even if he hasn't been attending spring practices.
If McCoy is the best Bucs defensive player, then this certainly should be a big season for him, possibly a whopping breakout year with all the new toys around him.