Heavenly Hype-free
May 16th, 2018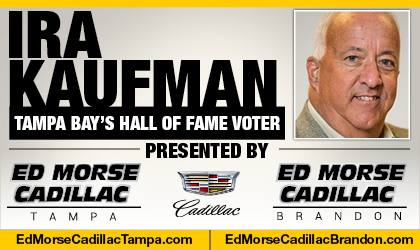 BY IRA KAUFMAN
Anonymity has its privileges.
On a broad perspective, nobody's talking about the Buccaneers. They are an afterthought for the Vegas odds makers, a non-entity on NFL Live, a subject rarely discussed on national sports talk radio.
It's understandable.
When you've finished in the division basement six times in the past seven years, it's natural to be considered irrelevant in the power rankings. That's a good thing for this franchise because the Bucs haven't handled hype very well over the years.
"Expectations last year, that was supposed to be our year," says Lavonte David. "We didn't fulfill that, so pressure is on us even more. Everybody is back talking down on us, so we have a lot more to prove this year. There's a sense of urgency, where we want to be and where we need to be."
When there are too many eyes on the Bucs, this franchise tends to lose its focus.
A year ago, coming off a 9-7 season, Tampa Bay was a chic pick to win the NFC South after the Hard Knocks cameras headed out of town.
Instead, the Bucs flopped to 5-11, falling out of playoff contention before Halloween.
History On Their Side
In 2011, the Bucs had the look of an emerging power. They had just gone 10-6 led by Josh Freeman, a young gunslinger who appeared to be the answer under center. It was not to be. After a 4-2 start, Raheem Morris lost his final 10 games before losing his job.
The 2008 Bucs were reigning division champs and jumped out to a 9-3 record before a December collapse put an end to the Jon Gruden regime.
After winning the NFC South in 2005, the Bucs fell apart the following season, plunging to 4-12 while averaging only 13 points per game.
The most painful memory of all? Try 2003, when the Bucs began defense of their Super Bowl title by blanking the Eagles 17-0 on the road in the season opener.
In some ways, they looked better than ever.
A month later, on another Monday night, the Bucs blew a big lead against Tony Dungy's Colts and were never the same.
On the flip side, all of the exciting  Buc seasons since the Super Bowl came when outside expectations were low. The current over-under win total for Tampa Bay (6.5) seems rather depressing, but Buc fans are used to the disrespect.
So are the players.
Radar Games
"It is what it is," says Donovan Smith. "You control what you can control. Under the radar, on the radar, whatever you want to call it. In the box, out of the box, it doesn't matter. We still have a job to do. We still have things as a team that we have to hold each other accountable for and go out there and perform and compete and produce. It doesn't matter where on the radar we are."
A 10-year playoff drought doesn't generate much enthusiasm outside of Buc Nation, The core fans will always be there, the true believers who could care less what the Vegas boys have to say.
The stage seems perfectly set for the Bucs to pull off another surprise, like they did in 2005, 2007, 2010 and 2016. They can be the NFL's stealth team this fall, flying so far under the radar you won't see them coming until the league has no choice but to flex their meaningful games in December.
Buc fans have hope. Who needs hype?
Ira Kaufman is the most revered sports personality and writer in town. He has hung his hat at JoeBucsFan.com world headquarters since July 2016. Tampa Bay's only Pro Football Hall of Fame voter, Ira busts out columns here every Monday, Wednesday and Friday, and his award winning podcasts fire Tuesdays and Thursdays. You can also hear Ira on SiriusXM Mad Dog Radio Wednesdays during football season, and see him now on Mondays at 10:30 p.m. on Spectrum Sports 360 (aka BayNews 9). Ira also is part of the FOX-13 Tailgate Sunday show and enjoys beet salads, Riesling, Chiefs victories and needling Joe.