Licht Dances Around New Jameis Question
May 2nd, 2018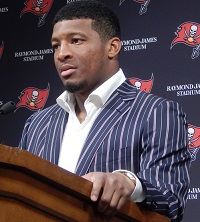 Coaches and general managers across the NFL like to say how important spring and summer practices are to building chemistry, timing, knowledge and teamwork.
Therefore, logic says it is beneficial to know in April who your starting quarterback will be on opening day.
With that in mind, general manager Jason Licht was asked today about the September availability, or lack thereof, of Jameis Winston, as it relates to the 5 1/2-month old NFL investigation into the accusation that Jameis inappropriately touched an Uber driver in her crotch in 2016.
Licht wasn't going there during his appearance on WDAE-AM 620.
Tom Krasniqi: You have to be frustrated and anxiously awaiting to hear what's going on with Jameis Winston. And with the tough start to the season, is it imperative to know something about this so you can adequately prepare?

Jason Licht: Well, I can appreciate why you're asking that question, but I really honestly don't have an answer for you right now. And we'll see how it goes. I know we have a tough start of the season, but one thing I can lay my head on the pillow at night knowing is that we have a lot more tough guys on our roster right now, too, that are resilient and that have been accountable. And that was the goal. We're going to go in putting our best foot forward.
Joe's unsure why Licht couldn't answer a question about preparation, but that certainly was a typical response from Licht and Bucs officials when asked about any aspect of the Jameis investigation.
Dirk Koetter, Team Glazer, Jameis, Licht, nobody's talking. And when they are, they're saying nothing.
It's not looking good for Jameis. The silence on the issue is disturbing, as is the apparent apathy from the NFL, and then there's the matter of Jameis needing to avoid a league suspension for not reporting the accusation to the Bucs immediately.
Shame on the NFL if there's no decision/agreement in place by the start of training camp in July.