Shower Test For The Storm Front
May 2nd, 2018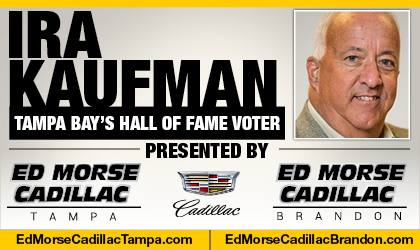 BY IRA KAUFMAN
Last fall, Tampa Bay's season opener was sabotaged by a major hurricane. This time around, the Bucs have an opportunity to unleash their own force of nature.
It's called a pass rush.
While some Buc fans are already cringing about meeting the Saints in the Superdome, I think the timing is rather perfect. The inhabitants of One Buc Place couldn't pick a better venue to announce to the world that these visitors are a new breed.
We'll find out from the jump whether Jason Licht's offseason makeover up front is the real deal.
If Drew Brees walks off the field without the need of a shower, that's a bad sign. If he trudges off battered and bruised, the Bucs are in business.
Business has been awful for the past decade, with the Bucs finishing in the NFC South basement six times in the last seven seasons. If the Glazers are serious about competing in the NFL's premier division, a dynamic pass rush has to be a key part of the turnaround.
Better Buffet
Instead of lazy Swaggy Baker bringing everyone around him down, Mike Smith now has his choice of Beau Allen or Vita Vea next to Gerald McCoy.
Instead of hoping Robert Ayers has something left, Smith will confidently dispatch Jason Pierre-Paul and Vinny Curry.
And if Noah Spence is ready to contribute, join the party. Don't be shy, there's enough sacks and pressures to go around for everyone.
What's a better proving ground than the Superdome?
Since Brees arrived in New Orleans, the Saints have finished among the top five scoring teams five times in 12 years. Never in that span have they been worse than 12th.
In terms of total yards, the Saints have been top 6 every season with Brees under center, including six No. 1 rankings.
So here come Dirk Koetter's Bucs, armed with five new defensive linemen. With McCoy, Vea, Curry and Allen, Tampa Bay is poised to pressure Brees where he lives and thrives — up the middle.
That's easy to say and very difficult to accomplish.
Ending The Goose Egg
Every defense goes into a game against New Orleans determined to generate interior pressure, but this is Tampa Bay's best chance since Warren Sapp left town in 2004.
Don't discount Vea as a factor on the pass rush and if the first-round pick struggles early, Curry can be very effective when moved inside on third down.
And let's not forget about another Buc who has shown skills as a pass rusher. Yes, I'm talking about Lavonte David, who registered 7 sacks in 2013 and 5 takedowns in 2016 as a blitzing linebacker.
Last year? Zero.
"We've gotten better up front," Koetter says. "We've gotten bigger, we've gotten more physical, we've gotten deeper and we've added a couple of speed rushers."
Brees is 16-9 in his career against the Bucs, with 48 touchdown passes, his most against any team. The Saints went 7-1 at home last season en route to a division title, so the Bucs will have a chance to torment Brees and spring a Week 1 upset that would reverberate up through Charlotte and Atlanta.
Goodbye, hurricane. Hello, storm front.