Mike Smith: Salary, Draft Status Won't Matter
May 16th, 2018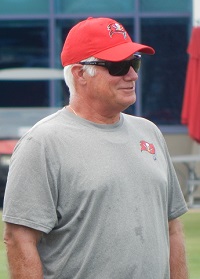 Bucs defensive coordinator Mike Smith was at the podium before Joe and the Tampa Bay media today and was peppered with a variety of questions. 
Joe pressed Smith on the direction and status for Vernon Hargreaves.
Joe will have more on that answer later, but Smith was adamant that there will be wide open competition at cornerback and he specifically said that draft position and money won't matter when it comes to who plays. Smith implied this will be the case across the defense.
Not every coach goes there. And it's rarely true across the NFL. (See Chris Baker 2017.)
So Joe found that quite noteworthy.
Frankly, the Bucs don't know what they have at corner outside of Brent Grimes, who should be in bubble wrap all preseason.