Dirk Koetter Talks "Huge Load Off My Plate"
May 22nd, 2018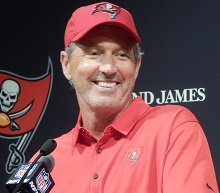 Man, Dirk Koetter has it good this year.
Among other things, he's in his fourth consecutive year as the playcaller for his starting quarterback. No NFC playcaller has a longer streak.
(Sorry, trivia freaks, Mike McCarthy and Sean Payton each took time off from playcalling during the last four years.)
Koetter also has a fancy practice facility available to him at spring practice and at training camp for the first time.
And he's flat out loaded with pass catchers. What team can compare on paper with Mike Evans, DeSean Jackson, Cameron Brate, O.J. Howard, Chris Godwin and Adam Humphries?
Throw in one of his dearest and most trusted friends coaching the Bucs defense and a front office spending nearly to the salary cap limit, and Koetter couldn't as for more.
There's also a major change to the coaching staff, with Koetter releasing Todd Monken from his primary duty as receivers coach so he can be a full-time offensive coordinator. It's already making a big difference, Koetter said today.
"Todd's an experienced coach and he's a head coach, he's been an offensive coordinator before, so now he has responsibility to all positions on offense instead of just to the wide receivers. So, if you notice, he travels with the quarterbacks early in practice and he was making some good points to the tight ends about route running today," Koetter said. "Before, he would have just been down on the end of the field with the receivers. Also, he does all of the scripting now. That's something that I used to do or we used to break it up. S

"Scripting is a big job, it's a time consuming job. It's important because you have to keep track of what we're doing against what looks as the install goes. So, that's a huge load off of my plate to either let me go sit in on other meetings or be working on something else."
The table certainly is set for a bounce-back/breakthrough season by the head coach.
It sure seems like he has everything he wants.