Rules Changes Will Challenge Bucs Lines
May 22nd, 2018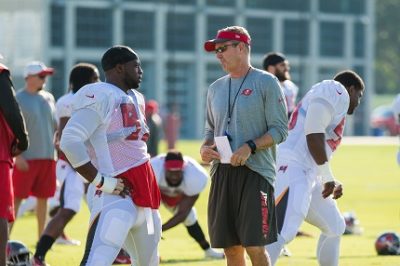 Glorious NFL football as we know it changed today at the NFL Owners Meetings in Atlanta.
Back in March, Joe hung out at the owners meeting in Orlando and soaked in Roger Goodell's news conference that included plenty of vague chatter about tackling and contact changes on the way.
Today, things got more clear. Mike Florio of ProFootballTalk.com explained it simply and effectively.
At a time when football fans finally are waking up to the demise of the kickoff, another football staple is about the go the way of the Stegosaurus. And a game that many regard as a dinosaur could soon be extinct, at least as we know it.
With the NFL finally admitting what some suspected for the past two months — the new helmet rule does apply to offensive and defensive linemen — the three-point stance inevitably will be gone. And the NFL will have gotten rid of it without actually getting rid of it.

… "He's got to get his head up," NFL senior V.P. of officiating Al Riveron said Tuesday regarding offensive linemen.

The only way to keep his head up is to never put it down. The three-point stance comes from the ability to fire out and slam into the opponent. With linemen in such close quarters, it will be impossible for an offensive lineman to blast forward into a defensive lineman without potentially hitting the opponent with a helmet that necessarily is low.
So how will this affect the Bucs and how might their personnel fit under the new rules?
Joe's not sure, but Joe certainly remembers how the Bucs signed big-hitting, big-money safety Dashon Goldson at the worst possible time in 2013 — when the NFL was cracking down on drilling receivers.
Just a gut feeling, but perhaps signing free agent center Ryan Jensen, known for not being a finesse player and for firing off the ball with extreme nastiness, might present adjustment challenges. And how will this affect Gerald McCoy's renowned get-off?
It's certainly a tough situation for every team. Joe hopes Dirk Koetter is prepared.