Clear Attitude Shift By Bucs Coaches
May 18th, 2018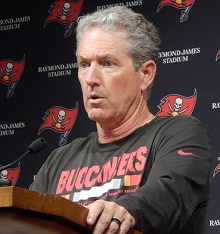 Joe cannot express how many times NFL coaches at this time of year won't discuss the previous season. They're not going there. Page turned. Old news.
Not this year.
It's likely a conscious decision. Why? Dirk Koetter is a detail guy, precise in his approach to everything. That's Koetter's reputation, even if he appears on the surface to be a regular but intense dude with whom you just want to pound a few beers with and talk ball.
Take offensive line coach George Warhop, he was throwing darts left and right yesterday. Warhop came right out and said the mentality of the offensive line was far below par in the first half of last season.
Of course, Warhop loves and praises all of his players individually, but collectively he crushed their 2017 performance.
On grit and toughness, "We may have it but we weren't playing with it," Warhop said. "Either you're going to be competitive or you're not," he added.
Warhop went on to say he's still "pissed off" about last season and it's good let the scars "bleed."
Yesterday, offensive coordinator Todd Monken twice said the Bucs "chose to suck" throughout the season in the red zone. And QB Coach Mike Bajakian had no problem saying the Bucs didn't know how to play basic "pitch-and-catch" in 2017.
There are several other examples from coaches on both sides of the ball.
It's no coincidence. The powers at One Buc Palace want to keep that sting and stench of 2017 very fresh. Channel it and use it, Dirk.
Joe greatly appreciates the candor. It reflects where the fans are. Fans are ready and yearning to move on, but the gut-punch of last season still aches enough to get you fired up.