"We Chose To Suck" = "Constructive Criticism"
May 24th, 2018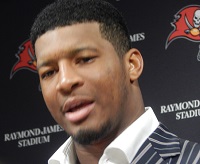 Man, you gotta love the team-first attitude of America's Quarterback, Jameis Winston — and his skillful handling of the media.
A local radio reporter beat Joe to the punch on Tuesday by asking Jameis what it meant to him to hear offensive coordinator Todd Monken say the Bucs' red zone woes last year happened because "we chose to suck," a line Monken told media twice.
Jameis' look turned more serious before he answered.
"It means that we got to get better. You know, we always take constructive criticism, especially from our guy," Jameis replied. "Like, Coach Monken is our guy. So anything that he shares with us. We receiver that and we find ways to improve."
Jameis was then asked about Monken saying he "tries too hard" at times and that must stop. And again, Jameis said his coach's words were constructive and valuable.
"You know, I am who I am," Jameis said. "At the end of the day, you know I'm always looking for ways to get better. And again, that's my coach, so anything he has to share. I promise you, if he shared it with you guys, he done talked to me about it. So, like I said, I just have to get better any way I can. So constructive criticism, even praise, you gotta take it in and you gotta see how you can add it to your game and improve."
Monken's approach fascinates Joe. On one hand, Monken is telling Jameis he's among the group that didn't want it enough in the red zone and "chose to suck." And then on the other hand, Monken is telling Jameis he's trying too hard.
Joe will have more on Jameis allegedly trying too hard later this week.