"I Don't Know What It Is But I'll Figure It Out"
May 24th, 2018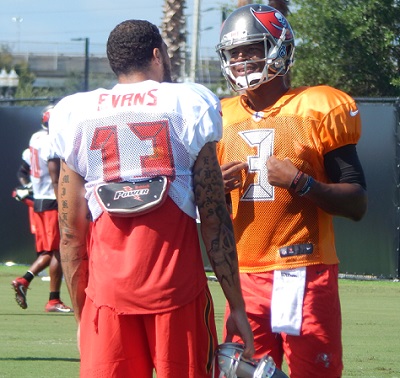 Your Buccaneers shelled out a historic guaranteed contract this spring to a receiver who admits he isn't what he used to be.
Joe's not being a wiseass, but that is a very odd combination.
Mike Evans spoke openly this week about his extended troubles with yards after the catch, aka YAC.
"I just got to be quicker after I catch the ball. And I think that's going to come with repetition. Because in college I was good at it. My first couple of years I was really good at it. My last couple of years I haven't been that great. I don't know what it is but I'll figure it out," Evans said.
This left Joe a little bewildered. Evans had an outstanding wide receivers coach the past two seasons in Todd Monken, and Evans caught a whopping 167 balls over the last two years, during which he's struggled with YAC. So Joe finds it hard to believe that more repetition is what Evans needs to fix that aspect of his game.
Perhaps being a low-Yac guy is just who Evans is? Joe is certainly cool with that.