"We Chose To Suck"
May 17th, 2018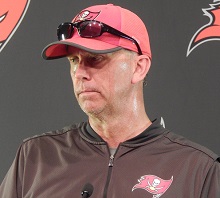 Offensive coordinator Todd Monken has spent countless hours studying the Buccaneers' red zone woes last season.
Today, he offered an explanation.
Yes, the Bucs were among the very best in the NFL at getting to the red zone. They were second-best in the NFL at first downs. But they were bad at converting.
The verdict? "We chose to suck," Monken said.
Monken said it multiple times to Joe and local media assembled today at One Buc Palace, and he said he advised the team as well.
Interpret that how you wish. Throw the blame where you want.
Last season is long gone, but the failure was real and the key players seem to know what happened and why.