The Key To The 2018 Draft
May 4th, 2018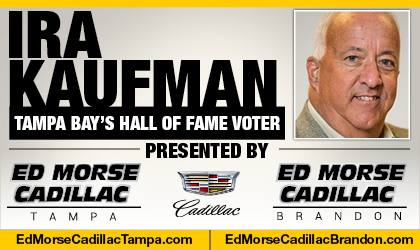 BY IRA KAUFMAN
Run the football. Stop the run. Rush the passer.
When you boil pro football down to its most basic elements, the winning formula emerges. Yes, there are exceptions like the pass-happy Patriots, who just happen to feature the best quarterback to ever play the game.
Exception noted.
But look at the Saints. When New Orleans won the Super Bowl, Sean Payton's offense was blessed with exceptional balance. When the Saints were resurrected last season, rookie Alvin Kamara and Mark Ingram combined to rush for 1,852 yards and 20 touchdowns.
In the seven years in between, Drew Brees threw for a zillion yards and New Orleans won one division title.
Given the overhaul of their defensive line, the Bucs have every reason to expect they will be stout defending the run. Beau Allen and Vita Vea are undeniably strong at the point of attack and Jason Pierre-Paul remains solid against the run.
And isn't run defense supposed to be Will Gholston's forte?
The pass rush issues have also been addressed, with Pierre-Paul and Vinny Curry at the forefront. A healthy Noah Spence would be icing on the sack cake.
But what about Dirk Koetter's ground game? Ah, that's the question.
Trojan Horse
Craving balance and achieving balance are two different animals, and every Buc fan knows this running attack hasn't gotten the job done since 2015, when Koetter arrived as offensive coordinator. That was the season Doug Martin and Charles Sims ran wild and Tampa Bay finished with the No. 5 offense in the league.
Before that year, the Bucs had never ranked better than ninth.
Coincidence? I think not.
So here comes Ronald Jones, a Trojan horse who specializes in long gains out of the backfield. The season opener may be more than four months away, but Mr. Jones looms as the key to the 2018 draft.
"I'd say it's safe to assume he's going to make an impact," Jason Licht says. "We're very happy with Peyton Barber. To be the starter and the lead dog right away, I can't say that, but we're very excited to have him."
So is Koetter, who tried to stick with the running game the past two years, despite meager production.
This may be a quarterback-driven league, but nine of the top 10 rushing teams made the playoffs in 2017, with the 9-7 Cowboys the only outlier.
And it's worth noting that much of Tampa Bay's red-zone woes can be traced directly to a ground game that produced only eight touchdowns.
Defenses tighten up when the field constricts, making it challenging to reach the end zone through the air.
Of the eight teams that were limited to eight rushing touchdowns or fewer last season, none made the playoffs.
Zilch.
Magic Number
So along came Jones.
"He brings something that we haven't had for awhile here — and that's juice," Licht says. "He's an explosive runner."
If the Bucs running game continues to struggle, you won't be able to blame Doug Martin anymore. That tugboat has sailed to Oakland, where Jon Gruden will try to resurrect a career once filled with so much promise.
If Jameis Winston is still averaging 34 pass attempts per game this fall, that spells trouble, with a capital "T" that rhymes with "P" that stands for problem. If Jones lives up to his billing, that means problem solved.
Rumble, young man, rumble.