Bad Shoulders Plagued Lavonte David In 2017
May 4th, 2018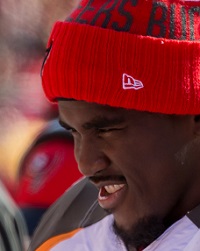 Man, where does the time go? Lavonte David is entering his seventh season as a Buccaneer.
Hard to believe.
The sacks disappeared last year, despite loads of blitzes, and it was the first season David was without an interception since 2014, David made a stunningly fast and effective recovery from a Week 3 ankle injury — only missed three games — but he revealed yesterday that his shoulders were a problem all year.
David said they were a big focus of his past four months.
"Just getting stronger. Throughout the year, my shoulders weren't where I wanted them to be so that's the main thing I've focused on this offseason. Just getting my shoulders back together where I can take a lot of banging or whatever," David said. "Right now I'm feeling awesome, I'm feeling great and I'm just looking forward to taking it one day at a time and getting better."

Asked to clarify the shoulder problem, David sounded exasperated and like a man who was battling hard to stay on the field.

"It was all of the above [a strength, pain, stability issue]. I took it for what it was," David said. "I just couldn't pinpoint exactly what it as but it just didn't feel normal to me. So I just tried to get it back to where I wanted it to be."
Ninety-one NFL starts as a three-down linebacker has a way of breaking your body. Not everyone is Mr. Derrick Brooks, who never missed a game in 14 seasons.
Joe felt badly for David yesterday, though his bank account is healthy.
David will earn a base salary of $8.75 million this season and $9.75 million in 2019.