"Offended"
May 28th, 2018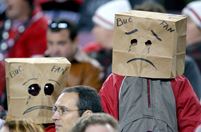 This may be the best description of the angst of Bucs fans Joe has ever read.
Joe is jealous he didn't come up with this.
In so many words, fans are angrily chanting the mantra "No Excuses" and are all but demanding a winning season, lest heads rolls for one big reason. It stems from "Hard Knocks" last year, writes Dan Hanzus of NFL.com.
Hanzus details that Bucs fans were "offended" how they got hooked on the team by watching "Hard Knocks," but the team performance was the equivalent of campers urinating on the fire as they leave for home.
That is why, Hanzus suggests, many Bucs fans want a housecleaning if the pirate ship cannot be righted this season.
If you're like me (I'm sorry), you were actually offended by the 2017 Bucs. Over the course of five "Hard Knocks" episodes, we fell for a young and personable Tampa Bay team that looked like an emerging NFC superpower. Then the season started, and it was all exposed as camera magic. Jameis Winston hurt his shoulder and the Bucs kept losing … and losing … and losing, ending an ugly season at 5-11. Head coach Dirk Koetter somehow survived the wreckage, and now Tampa Bay gets to hit the reset button. The good news? GM Jason Licht appears to have had a really solid offseason, building up the front seven through free agency and trades (hello, Jason Pierre-Paul). He also addressed a major issue on offense in the draft with the selection of USC running back Ronald Jones. If Jones hits and the line can protect Winston, the Bucs are going to score a lot of points this season. But … can we trust them? Hell hath no fury like a "Hard Knocks" fan scorned.
Joe thinks this absolutely nailed it on the head. After the Bucs upgraded their passing game last year with DeSean Jackson, Chris Godwin and O.J. Howard, it seemed like the offense was about to blast off. The defense, coming off a five-game stretch that saved the 2016 season, was going to continue its tough ways.
Instead, it was like someone tossed a hand grenade in a Porta Potty. The offense couldn't score. Cornerbacks not named Brent Grimes played as if it was underwear football and they'd get cut if they touched a receiver, and then America's Quarterback, Pro Bowler Jameis Winston, got hurt.
It was as if "Hard Knocks" (falsely?) built up the Bucs, so their play hacked off an entire fanbase. The team never came close to living up to the hype.
(Ira is the only guy Joe knows that thought "Hard Knocks" was rotten television last summer and he preferred to watch the Tony Awards and "Masterpiece Theater." Then again, Ira doesn't like Kay Adams, so what do you want Joe to say here?)
In Hanzus' words, the Bucs unintentionally sold fans a bill of goods. And nothing short of a winning season this fall will calm fans down enough to set aside their torches.