"Winston Has Turned Over Phone Records And Text Messages To The League"
March 28th, 2018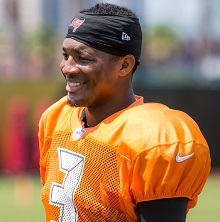 Anything to move forward the official NFL investigation into Jameis Winston's conduct is a good thing.
Get this thing over with so the Bucs can know where they stand with their quarterback and face of the franchise.
One Hall of Fame voter, and a friend of Joe, has verified the NFL has at least done something since the probe launched last fall. Joe's referring to Darin Gantt of ProFootballTalk.com.
"Winston has turned over phone records and text messages to the league," Gantt reported yesterday.
Joe will take it. A forensic examination of Jameis' phone could be a key element, especially when combined with the same examination of Eagles' cornerback Ronald Darby's phone. Darby and Winston claim to have been together in the Uber car whose driver accused Jameis of grabbing her crotch during a trip through a fast-food drive-thru in March 2016.