Corners Trumaine Johnson, Malcolm Butler Get New Teams
March 13th, 2018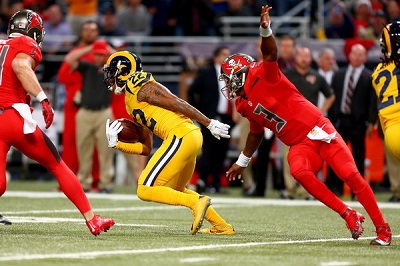 Two big beasts of this year's hearty cornerbacks class of free agents have found new teams.
It's too bad this wasn't the year of the defensive end!
Per various reports, Trumaine Johnson has moved on to the Jets from the Rams, and Malcolm Butler, the benched-for-the-Super-Bowl Patriots stud has landed in Tennessee. It'll all become official tomorrow.
Dirk Koetter noted today that he'd take Brent Grimes — and he did — and put him up against any of the available cornerbacks this year. Joe's not arguing with the head coach, but how about two beastly corners? Frankly, Joe would rather have that and no DeSean Jackson, if they all couldn't be had for this season.
As Joe noted earlier, rising Jaguars cornerback Aaron Colvin also has a new address and it's Houston, not Tampa.
Are the Bucs going to draft a corner with a premium pick again?