Report: McCoy And Teammates Asked To Help Pick New Coach
March 8th, 2018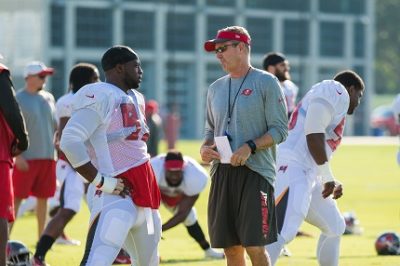 Yes, there were problems among Buccaneers' defensive linemen last year that did not involve Chris "Swaggy" Baker or overall poor play on the field.
Aside from Joe hearing rumblings of unhappy linemen during 2017, it was telling when line coach Jay Hayes was fired last month and the guys who played for him — from classy and charitable Clinton McDonald to sensitive Gerald McCoy and fiery Robert Ayers — were silent on social media. Nobody, per Joe's searching, gave Hayes even a simple, "Good luck, Coach."
After several interviews, Tampa Bay signed former player and Cardinals defensive line coach Brentson Buckner to replace Hayes.
Speaking today on WDAE-AM 620, NFL Network insider guru Ian Rapoport said the Bucs' hierarchy enlisted the help of guys like Gerald McCoy and Robert Ayers to "help pick" their new line coach because there were chemistry problems with the staff and players last year.
Joe heard that and instantly thought how this nugget makes it even more bizarre that Hayes was fired more than a month after the season — after Team Glazer agreed to pay him for 2018. If Rapoport is accurate, and there's certainly no guarantee given his track record, then it almost feels like Dirk Koetter and Mike Smith didn't know until long after the season that their defensive linemen weren't responding to Hayes.
Man, strange offseason for the Bucs so far, an ugly X-files episode.
Joe literally didn't sleep last night trying to figure out how Marvin Lewis, Bengals coach and a good friend of Koetter, just agreed to sign Chris Baker to a $3 million+ contract for this season after the guy completely mailed it in on the Bucs.