Such A Puzzling Non-Move
March 3rd, 2018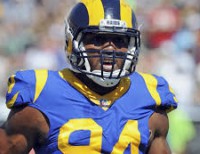 It's after midnight here in Joe's downtown Indianapolis hotel and Joe is still trying to piece together the puzzle of just why Bucs AC/DC-loving general manager Jason Licht waved off a potential trade for Rams defensive end Robert Quinn when it would have only cost the Bucs a fourth-round pick and perhaps swapping virtually worthless sixth-round picks.
This is assuming there were any negotiations between Licht and Rams general manager Les Snead.
On face value it is mind-numbing. The Bucs are crying out loud for any sort of rush. Hell, Bucs coach Dirk Koetter looked Joe square in the eye this week at the NFL combine and said directly and forcibly, "We cannot have 22 sacks!"
So Joe is guessing if Koetter was at St. Elmo for dinner when the news broke late Friday that the Dolphins got Quinn for a bargain basement price, someone in the fine dining establishment likely had to use a Heimlich maneuver on Koetter.
Joe is really, really trying to be objective here and keep an open mind, but for ying to argue against the trade, Joe has a logical yang.
The first is, per Gregg Rosenthal of NFL.com, it seems Quinn has a bum back. Yeah, a real bum back. Dude had 8.5 sacks last year. With a bum back like that, at the very least, Licht should hire Quinn's unlicensed chiropractor. The whole Bucs defensive line needs bad backs like Quinn's.
Then there is the retort, "How many games did Quinn play last year?" That would be 15, more games than Robert Ayers, Will Gholston and Noah Spence played in.
Joe's favorite argument against the trade was that Quinn's salary is $24 million over the next two years. Well, Joe has a comeback for that.
Last year alone, Team Glazer flushed away $19 million on Swaggy Baker, Ayers and Gholston and got 2.5 sacks in return. The worst season Quinn has ever had was four sacks in 2016. By comparison, Quinn's salary is a friggin' steal! So don't get Joe going on salary cap ramifications here.
Joe swears, without knowing any better, the Bucs sure seem like they don't want to upgrade their defensive line. It's not as if there are decent edge rushers on the market in less than two weeks when the free agency dinner bell rings, with the possibly exception of Julius Peppers.
Meanwhile, Rome is burning (One Buc Palace).
If the Bucs were in position to draft Bradley Chubb, then yeah, Joe could sort of understand this non-move for a team beyond desperate for a pass rush. The Bucs are unlikely to get Chubb, short of an expensive trade-up-in-the-draft deal.
If Joe didn't know better, it's as if the captains of the Bucs are somehow hoping Noah Spence can stay healthy for six games and record five sacks and that Brenston Buckner can wave a magic wand and squeeze three sacks out of Gholston.