"We Can't Have 22 Sacks"
February 28th, 2018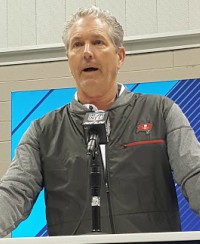 The Bucs were just horrid rushing the passer last year.
For Bucs fans, this has largely been Groundhog Day every season since Simeon Rice left. A brutal slap in the face to fans annually.
Well, it seems Bucs coach Dirk Koetter is fed up. In speaking to Bucs reporters late this morning, Joe asked Koetter if red zone offense or slow starts offensively was the key issue to losing 11 games last season.
Koetter leaned toward the red zone offense and offered up thoughts on slow starts and then stated with authority, "We can't have 22 sacks!"
One could argue that every defensive lineman not named Clinton McDonald and/or Will Clarke regressed last season. It's not a good thing if one or two regresses, but when virtually the whole line regresses when rushing the passer, that's bad.
Want to know why Jay Hayes has time on his hands these days? Koetter's quote says it all.