Koetter Appears To Tip Bucs' Draft Hand
March 27th, 2018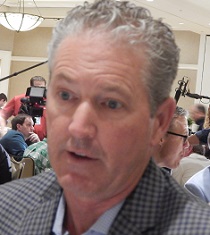 Joe's always looking for quality lines to read between when it comes to the NFL Draft.
And candid Dirk Koetter isn't one to blow many smokescreens.
Today at the NFL coaches breakfast, the subject turned to the Buccaneers secondary and adding more talent there.
Koetter went right to the draft and took a tone that sounded like it's obvious the Bucs will be selecting a new defensive back or two.
"We said at the end of the year, the No. 1 thing we had to do is get Brent Grimes back. And we did that," Koetter said. "Also, Vernon Hargreaves finished the year on [injured reserve], so when you have those two guys coming back, plus the experience that Ryan Smith got, and then Justin Evans coming back for his second year at safety. So then with all that said, now that the defensive line has had so many additions I would think secondary (chuckles) — it's logical to think that would be a place that would be an area of target in the draft. Again, I think it's a strong group in the secondary in this year's draft. I know I've watched a bunch of guys and there's a lot of guys I like."
Ok. Koetter thinks it's logical to hit the draft for fresh talent in the secondary. Fair enough.
But consider that Koetter didn't mention cornerback Javien Elliott, who was recently re-signed. And remember what he said this morning about Hargreaves' prowess at nickel back — complete with a hypothetical that left Joe raising an eyebrow.
"I mean, if Vernon was your starting nickel and you had another guy you liked at the other corner opposite [Brent] Grimes, there isn't another team in the league that wouldn't like to have Vernon Hargreaves as their nickel," Koetter said today.
It sure smells to Joe like, as of today, the Bucs plan to draft a cornerback who can compete for a starting outside gig with Ryan Smith. Round 1? Round 2? Round 4?
Joe asked general manager Jason Licht this afternoon if he planned to add more defensive pieces in free agency prior to the draft, or whether the Bucs are done there for now. Licht was non-committal.