"There's Not A Team In The League That Wouldn't Like To Have Vernon Hargreaves As Their Nickel"
March 27th, 2018
Podcast: Play in new window | Download | Embed
Subscribe: RSS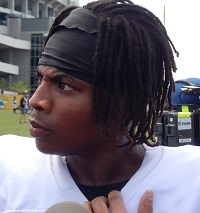 Joe got to the heart of the matter with Dirk Koetter today on disappointing third-year cornerback Vernon Hargreaves, the No. 11 overall pick in the 2016 NFL Draft.
You can hear the audio exchange in full above, as Joe joined Koetter for breakfast at the NFL Owners Meetings.
(Joe feasted on eggs, oatmeal, fruit and various bread products at the swanky Ritz-Carlton. Koetter had nothing, he said, because he didn't want food in his teeth for the cameras.)
Koetter has often said that first-round draft picks are supposed to start and contribute right away. That's just the way the league is, Koetter says.
So Joe wanted to know now that Hargreaves started in Year 1 but fell off dramatically in Year 2, where Koetter stands as far as expectations for Hargreaves. Or is Hargreaves just another guy battling for a job at this point.
"We need Vernon to come back and play well and I think he will," Koetter said. "You know, two things about Vernon. One, he had the hamstring injury which lingered a long time. Vernon did not have a great year outside. Vernon played good at nickel, and you're in nickel 65 percent of the time. I mean, if Vernon was your starting nickel and you had another guy you liked at the other corner opposite [Brent] Grimes, there isn't another team in the league that wouldn't like to have Vernon Hargreaves as their nickel. You usually don't pick a guy in the first round to be your nickel. Stuff works out how it works out. Vernon is going to be a big part of what we do. I know he's anxious to get started. He wants to be an every down player. But at the very least, Vernon's going to be our starting nickel."
Great, candid take by Koetter there and very high praise for Hargreaves' work at nickel. Off the top of Joe's head, Hargreaves only put in roughly four games there.
It sure would be unique if the Bucs ended up drafting a nickel with a premium first-round pick. That's not how you draw it up, but if he's good in his role, Joe won't complain. That still beats the roughly 50 percent bust rate for first-rounders.