Jason Licht's Ultimate Draft Question
March 18th, 2018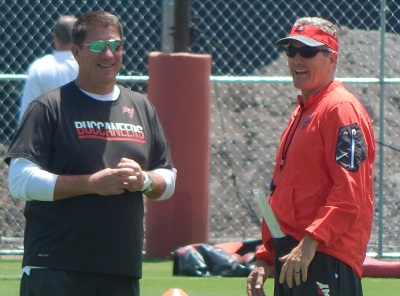 When it comes to the Buccaneers' offensive line and running game, you just can't fully trust what comes out of the mouths of team officials — and you can't predict how they are evaluating what's in front of them.
It's a combination that drives serious Bucs fans nuts.
Some examples:
*The Bucs' claim that continuity on the offensive line is critical but that sure feels like a pile of baloney. Just look at the in-game rotation of Evan Smith and Kevin Pamphile last season, and the decision to move Ali Marpet to center. … And now it's apparent that free agent signing Ryan Jensen will play center — and Marpet will go back where he belongs.
*Doug Martin was brutal, banged up and suspended in 2016, yet he was deemed the Bucs' best running back option in 2017. It was the wrong call (and Joe doesn't need to rehash those wounds).
*Jacquizz Rodgers was given the game ball by Bucs coaches for his 16-carry, 83-yard performance in the Week 4 win against the Giants last year. Healthy Rodgers then received just 26 carries the rest of the season. That's two carries a game — for a team that struggled to run the ball.
*Joe could go on with confusing comments from Dirk Koetter through the season, but that's enough for today.
So here we are: Martin and Charles Sims are gone and Rodgers and rising and capable Peyton Barber remain.
It appears obvious the Bucs will draft a running back next month, but the real question is whether Koetter and Licht believe 23-year-old Barber can be their No. 1 back and rack up 1,000 yards.
That will go a very long way toward determining where the Bucs snag their new RB in the draft, and could greatly affect how they approach Round 1.
Keep in mind this same team passed on many running backs that could have helped them greatly in free agency. So don't just assume this Bucs brass believes it's aching for a go-to back in the draft. They certainly weren't last year when they should have been.
When it comes to the draft approach at running back, the Bucs don't need to blow any smokescreens. It's already a roulette spin trying to figure out how they evaluate the position.