Jason Licht Claims Power Loss
February 15th, 2018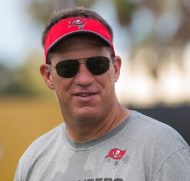 So are we to believe that Team Glazer, general manager Jason Licht and the most powerful Buccaneers officials have no power to influence the official investigation into Jameis Winston for allegedly crotch-grabbing a female Uber driver?
Licht wants fans to believe that, per his comments to ESPN reporter Jenna Laine, as part of her recent feature on Jameis.
"There's nothing we can do about the investigation," Licht said. "The league is going to do its due diligence in investigating it and we'll deal with that when they come to a decision. But we'll be prepared. I promise you, we'll be prepared regardless of whatever decision is made."
Joe sits here head-shaking at JoeBucsFan.com world headquarters.
C'mon, who really believes that Bucs officials have zero ability to ramp up — or delay — this investigation? That's pure silliness or a lack of creative thinking.
It's been nearly 90 days since the NFL acknowledged investigating Jameis. A couple of weeks ago, alleged star witness Ronald Darby, a Jameis comrade and Eagles cornerback, told Joe he has yet to talk to the NFL about the matter.
If Joe ran the Bucs, Joe would be doing everything possible to force a quick and just decision from the NFL. Certainly, the NFL and/or the Bucs have the resources to flush out this investigation speedily and move the needle on it if they wanted to.