Jameis Did Not Address Teammates On NFL Investigation
February 28th, 2018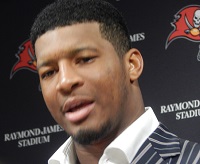 America's Quarterback, Jameis Winston, may be the leader of your Buccaneers, and he may be fond of saying the team is "one heartbeat" and "family," but he did not talk to his brotherhood about the elephant that landed in the locker room more than three months ago.
After Jameis was accused of crotch-grabbing a female Uber driver without permission and the NFL subsequently launched an investigation in November into Jameis' conduct, Jameis did not address his teammates about the incident that made national headlines.
Dirk Koetter confirmed this today at the NFL Scouting Combine. Koetter was asked directly if Jameis addressed the team on the matter and Koetter said, "No." That came after Koetter said he didn't have "any" information on the NFL investigation.
Joe had heard from multiple players that Jameis didn't address the team on the issue, but Joe didn't want to do the anonymous sources thing here on such a sensitive matter. But now it's out there.
Man, Joe finds this all quite odd and suspicious. One would think a guy like Jameis, a guy who says he's focused on leadership and has spent a ton of time being counseled by Derrick Brooks, would recognize the value of dropping at least a 30-second statement to his teammates face-to-face on such a critical matter.
So much about this NFL investigation stinks. (See home page for fresh news)
No, Joe is not convicting Jameis here. But Joe's loyalty is to the fans and what's best for the team. And nothing transpiring in the last 100 days of this investigation gives Joe a good feeling — from Jameis, Bucs officials, the NFL or the alleged victim.